Maryland Traditions Folklife Demonstrators Connect Us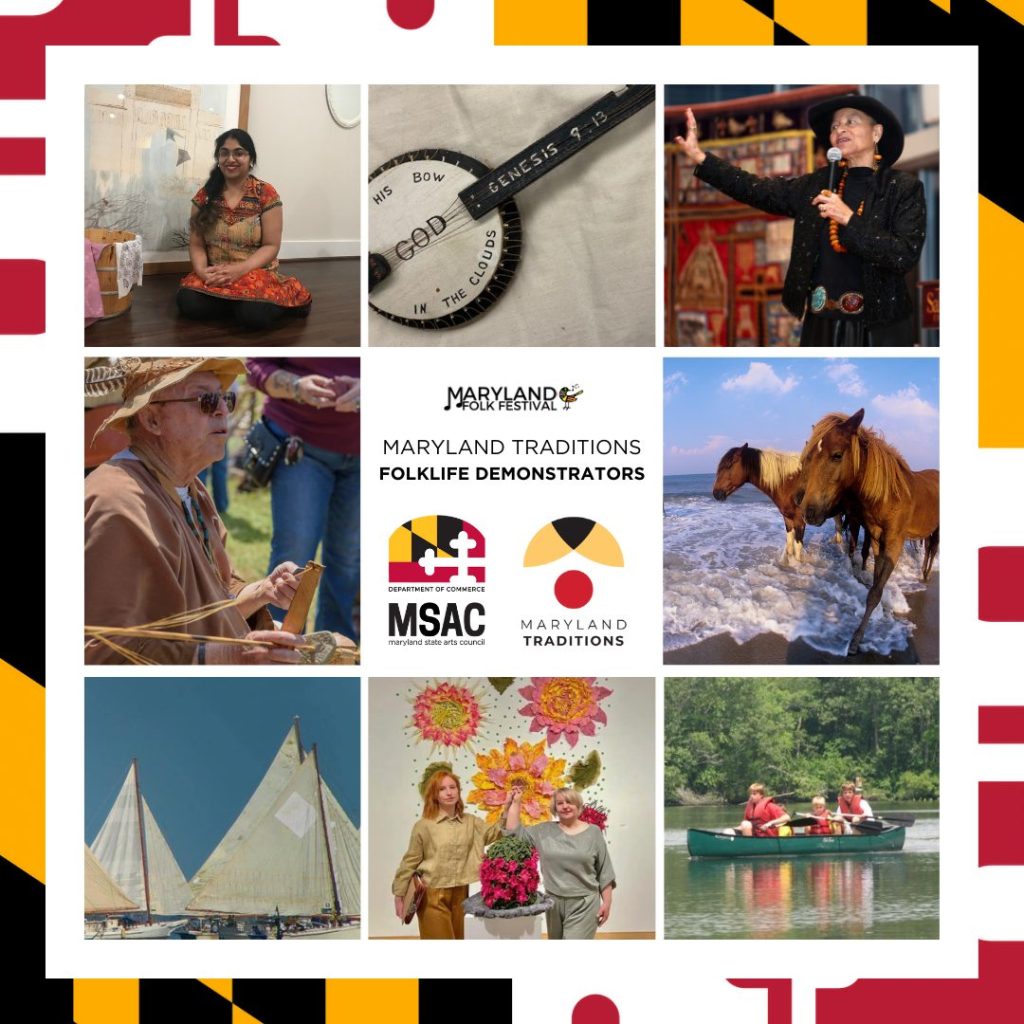 Maryland Traditions Folklife Area & Stage
Presented in collaborations with Maryland Traditions, the traditional arts program of the Maryland State Arts Council
Within its most basic of definitions, Folklife is the sharing of living traditions, and is commonly associated with practices such as dance, song, and art. But when you consider traditions that have sustained and evolved within generations and communities as our state has grown, you begin to recognize that Folklife itself is what binds us all. Given our geography, many of Maryland's traditions are born from the waters that flow throughout our landscape. Communities have been built around crabbing, boat building, and ports of call. It's also these waters that connect us, in a broader way, to each other. From mountain lakes to the Chesapeake Bay, and down to the Ocean, hon, it's the shared experience of where we come from and where we're going that define us.
This year's Maryland Traditions Folklife Demonstrations will include:
Beach to Bay Heritage Area (Berlin, Maryland)
Historical & Nature Preservation
The Beach to Bay Heritage Area is committed to promoting, preserving and protecting the cultural heritage, historical linkages and natural assets of Maryland's Lower Eastern Shore by telling the story of "our ways" whether it be art ways, bikeways, byways, flyways, folkways, food ways, or waterways.
Alla and Milana Borovskaia (Olney, Maryland)
Russian Wool Felting
Alla and Milana, an interdisciplinary visual artist duo based in Maryland, are celebrated for their beautiful large-scale wall sculptural compositions created using thousands of ultrathin shapeless strands of natural wool fibers, freestanding sculptures, and mixed media works that incorporate natural flowers and plants.
Dr. Joan M.E. Gaither (Severn, Maryland)
Story Quilts
From emancipation in Maryland, to life as a young woman in the 1960s, to Black watermen of the Chesapeake—the story quilts of Dr. Joan Gaither tell powerful biographical stories of her life, the lives of those around her, and the lives of those who came before her.
Trisha Gupta (Burtonsville, Maryland)
Rajasthani Woodblock Design and Fabric Printing
Trisha Gupta is a contemporary artist, community activist, and educator. Her work is heavily influenced by her Indian-American heritage and explores themes of social inequality, colonialism, mental health, and immigration. Committed to preserving traditional folk art and fine Indian printmaking, she specializes in using natural pigments derived from traditional Indian plant sources to create colors that are used in her prints, paints, and dyes.
Maryland Traditions Archives (Baltimore, Maryland)
Culture and Heritage Preservation
Housed at the University of Maryland, Baltimore County since 2014, the Maryland Traditions Archives (MTA) contain institutional records from the Maryland Folklife Program (1976-2000) and Maryland Traditions (2000-present), folklorist papers, and materials documenting and/or donated by practitioners of living cultural traditions.
Pocomoke Indian Nation (Eastern Shore)
Flint Knapping (Shaping)
Composed of descendants of one of the Indigenous populations of the Delmarva Peninsula, the Pocomoke Indian Nation is a large, widespread group that exercised significant influence in the region as they lived along the Annemessex, Manoakin, and Pocomoke rivers and bays, and Chincoteague Bay. Today, the Pocomoke pass on the heritage and lifeways of Delmarva's Indigenous peoples offering oral presentations and demonstrations on Indigenous skills, arts, and customs, including flint knapping (shaping) and artifact displays.
Pocomoke River Canoe Co. (Snow Hill, Maryland)
river sports
For over 40 years they have helped visitors experience the beauty of the Pocomoke River and historic Snow Hill, MD with guided tours and canoe and kayak rentals.
Skipjack Heritage Museum (Chance, Maryland)
skipjack heritage
Formed in 2007 as a non-profit organization with a goal of preserving the maritime History and the cultural heritage of America's oldest working sailing vessel, the Skipjack. The heritage includes the people who built, owned, captained or worked on those majestic vessels and all the other work boats built and used by the watermen.