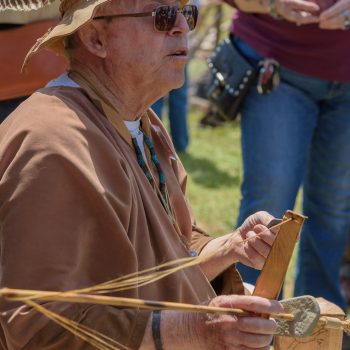 Pocomoke Indian Nation
flint knapping (shaping)
Delmarva Peninsula
Photo Credit:
photo courtesy of artist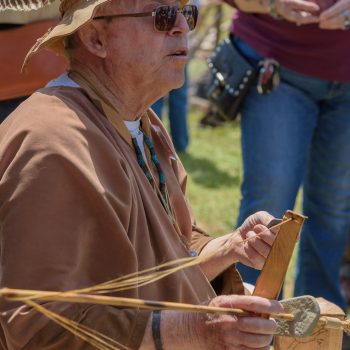 Composed of descendants of one of the Indigenous populations of the Delmarva Peninsula, the Pocomoke Indian Nation is a large, widespread group that exercised significant influence in the region as they lived along the Annemessex, Manoakin, and Pocomoke rivers and bays, and Chincoteague Bay. Today, the Pocomoke pass on the heritage and lifeways of Delmarva's Indigenous peoples offering oral presentations and demonstrations on Indigenous skills, arts, and customs, including flint knapping (shaping) and artifact displays.
Chief Norris C. Howard Sr, Tradition Bearer, Interpretive Artisan, Descendant of a Pocomoke Indian, Graduate of Crisfield High School 1956, Local historian, Past Member Maryland Commission on Indian Affairs, Bluewater Sailor, Past Commodore of Eastern Shore Sailing Association, 2004 Bluewater Sailor of the year, Past President and Treasurer of Allen Lions Club, Equestrian Owner and Driver, Member of Delmarva Driving Association, Eastern Shore Yacht Broker, Real Estate Broker and Owner of Howard Real Estate since 1977.
Norris C. Howard Jr. (Buddy) – Tradition Bearer & Interpretive Artisan, Descendant of a Pocomoke Indian, Graduate of Parkside High School in 1977, Alum of Wor-Wic-Tech Community College and Salisbury University. He has the designation of Tradition Bearer within the Pocomoke Indian Nation Inc., and has presented at the National Folk Festival, Ward Foundation, Frostburg University, Delmarva Discovery Museum, Pocomoke River State Park, as well as numerous historical societies, schools and various local events sharing publicly his interpretation of Native skills in toolmaking, cattail decoy creations, and dugout canoe burning. He has been invited to collaborate on several statewide projects, including Indigenous Maryland, and Maryland State Arts Council's Land Acknowledgement Project.
Philip L. Goldsborough – Cultural Ambassador for Pocomoke Indian Nation Inc., Tradition Bearer & Interpretive Artisan, Historian, involved in establishing the Edward H. Nabb Research Center for Delmarva History and Culture at Salisbury University, 2022 Recipient of Crisfield Heritage Foundation Heritage Award, Business Owner, Goldsborough Marine in Crisfield MD, Member and Board Member of Crisfield Fire Department for 50 years.
Cheryl Doughty – Tradition Bearer & Interpretive Artisan, Descendant of a Pocomoke Indian, Graduate of James M. Bennett High School in 1976, Alum of University of MD, College Park and Salisbury University, Wicomico County Public Schools Educator for 38 years, and Community Volunteer.
Sam Doughty Sr. – Tradition Bearer & Interpretive Artisan, Graduate of Washington High School in 1974, Business owner – seafood industry during the 1970s, including two years on several working Skipjacks, Manager for a wholesale HVAC company in Berlin / Ocean Pines 2000 – 2018 retired, Woodworking craftsman – including model Skipjacks.
Brenda Howard – Hailing from the Lower Eastern Shore of Maryland her entire life, Brenda has treasured the history and natural splendor of the region. After college, she opted to remain here and serve the local communities through a career in civil and judicial service which spanned over forty years. As a Pocomoke Indian Nation Inc. Tradition Bearer, Brenda demonstrates lifeways such as traditional cooking, using indigenous plants and animals for food and medicine, as well as for crafting objects.