The Maryland Folk Festival in Salisbury, MD September 22-24, 2023
Festival Area
The Festival will take place within Downtown Salisbury. The borders of the Festival Footprint include: Route 13 – Route 50 – Wicomico River – Carroll Street.
Festival Hours
Friday: 6:00 PM* – 9:30 PM
Saturday: Noon* – 9:30 PM
Sunday: Noon* – 6:00 PM
* Food Vendors will open at 5:30 p.m. on Friday, and at 11:00 a.m. on Saturday and Sunday.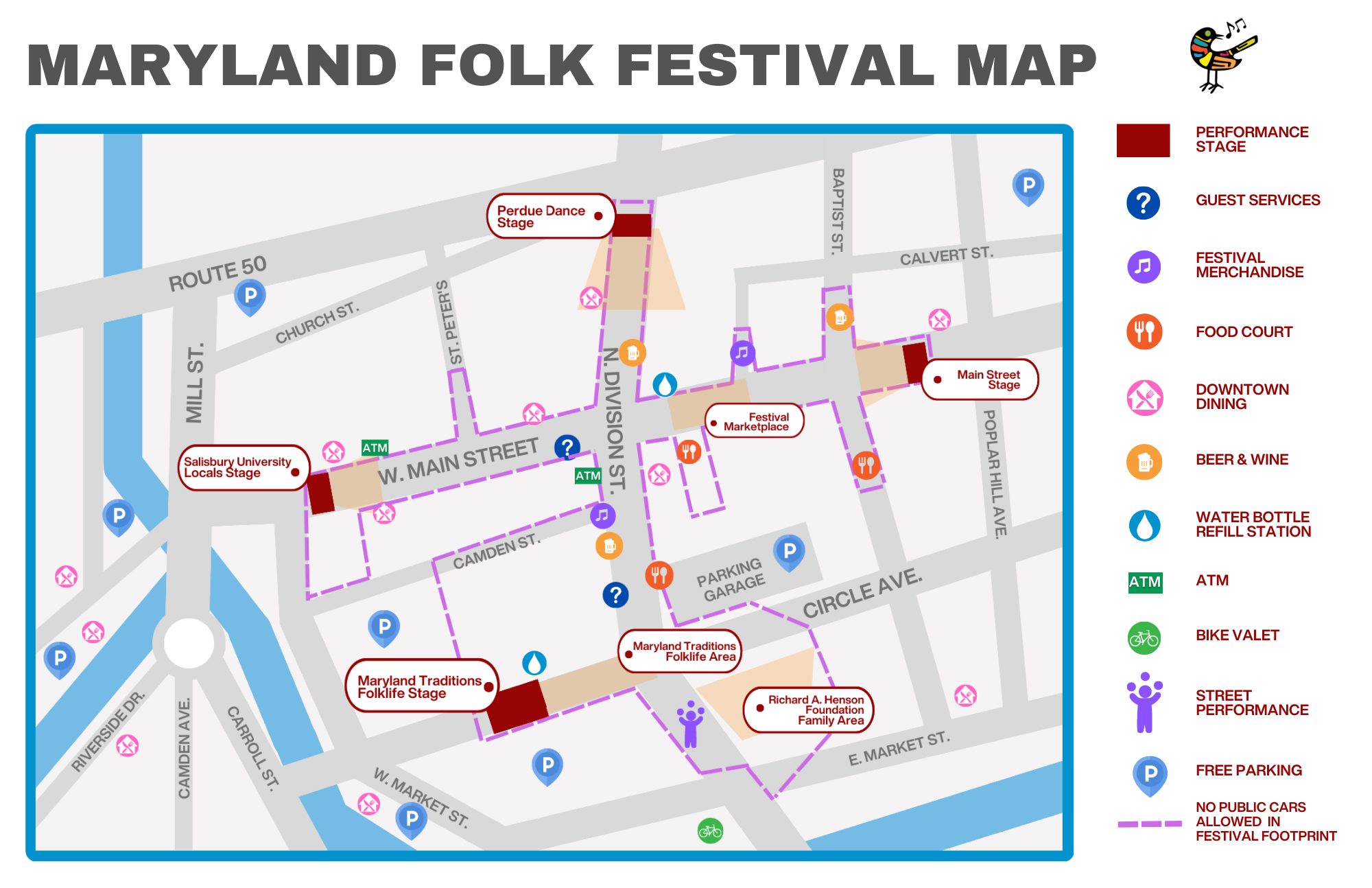 Download Maryland Folk Festival Map
Admission
The Maryland Folk Festival is a FREE event—you can enjoy the performances and demonstrations at no cost. Food, drink and merchandise are available for sale.
Good Neighbors
Our community is full of Good Neighbors and we are a mask-friendly event; respect those who choose to wear masks. Everyone is encouraged to wear a mask when in crowds or close contact. Please support us in being good neighbors at this year's event by showing each other kindness and respect.
Bucket Brigade
Help keep the Maryland Folk Festival a FREE event! A group of community volunteers carrying MDFF buckets will be circulating the festival asking for your support. All donations made through the bucket brigade help directly cover the costs of the festival. Suggested donation is $10 per person per day. Thank you in advance for your support!
You can also donate using your mobile phone. Simply text 'FOLKFEST' to 44-321 to make a donation. It's quick. It's easy. And it supports a free festival.
NO Pets
DO NOT BRING PETS (other than service animals) to the festival. We expect very large crowds and your pets will be more comfortable at home.
Maryland Folk Festival is striving to be a green festival
Everywhere you turn at the Maryland Folk Festival, you will be able to help our environment, and divert waste away from landfills. Recycling and composting eco-stations available throughout the festival site.
FAQ: What can't I bring with me?
Items that are NOT permitted include, but are not limited to:
Pets (service animals are permitted)
Coolers, Large Backpacks
Alcohol
Bottles/glass containers
Contraband (drugs and weapons)
Laser pointers
Flying objects (drones, kites, Frisbees, footballs, etc.)
What should I bring with me?
Items that are permitted include, but are not limited to:
Sunscreen
Refillable water bottle
Face mask
Credit card & ID if you wish to have a beer (beer booths do not accept cash)
Rain poncho or jacket (in case it rains)
Chairs
Each stage has a seating area with chairs provided. The festival provides audience members with about 4,000 chairs throughout the festival site to watch performances, listen to panel discussions, and to enjoy a meal and drink. Festival attendees may bring their own lawn chair or blanket if they prefer.
In the Event of Rain
The Maryland Folk Festival will go on, rain or shine. The weather is closely monitored by various safety agencies at our mobile command and will call for a delay in the festival if lightning or other dangerous weather is imminent.
In the event of rain, the festival's tented stage offers a dry environment in which you can enjoy the performances.
Guest Services
Maps, schedules, and medical assistance will be available at several locations at the Maryland Folk Festival. They will be well-marked on festival maps for download and onsite.
Water Bottle Refilling Stations
The Water Bottle Refilling Stations are generously sponsored by Ørsted who together with our Eco Stations (recycling) divert waste away from the landfill and help 'green' the festival.
Accessibility
The Maryland Folk Festival is welcoming to participants with all levels of abilities. All stages and areas allow accessibility for mobility devices which includes wheelchair access. For more information about accessibility at the festival, please visit https://mdfolkfest.com/accessibility/
Interpretation Services for the Hearing Impaired
Check your Pocket Schedule or stop by any of the four Information Booths located throughout the festival for details about which performances will be interpreted.
Restrooms
Portable restrooms will be located throughout the festival.
Lost People
If a child or person in your party gets lost, please approach a volunteer immediately. Volunteers will have access to persons with radios, who can get you help right away.
Your Presence is Your Permission
Special photographers and videographers have been hired by festival organizers to document the event. Some images may be used in later promotional materials. Your presence at the event is seen as your permission for such promotional use by the non-profit organizers.