The Maryland Folk Festival takes place in Downtown Salisbury, from Route 13 to Route 50 and from Carroll Street to the Wicomico River.
For guest safety vehicular traffic is not permitted on the actual event site.
To reach the festival, guests may use any of the parking lots listed below and enter the site on foot.
Downtown Parking
Multiple metered & permit parking lots are available downtown and FREE of charge.
Lot 1 (Lower), W. Market St.
Lot 4, Church St.
Lot 7, Lemmon Hill Ln
Lot 10, E. Church St & Poplar Hill Ave
Lot 11, W. Market St & Circle Ave
Lot 12, W. Market St
Lot 13, W. Chestnut St
Lot 30, Lake St & W. Main St
Lot 33, W. Main St
Lot 35, Fitzwater St & W. Main St
Downtown Parking Garage, E. Market St
TidalHealth Paved Lots, behind TidalHealth, Waverly Dr
Handicap Parking
Designated handicap parking spaces are available in all city lots and the Downtown parking garage.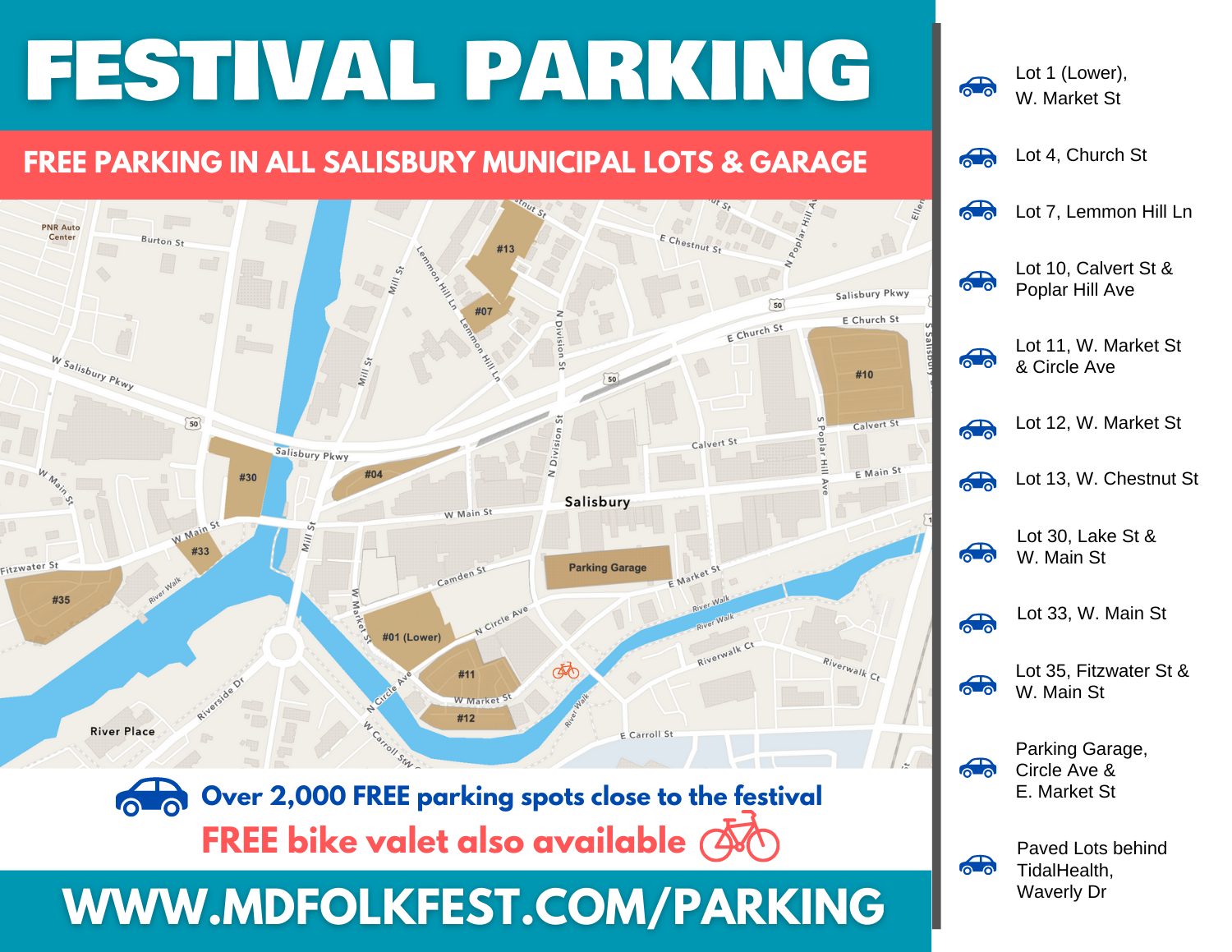 Other Modes of Transportation
Via Water:
Downtown Salisbury is bounded by the Wicomico River and visitors can take in the gorgeous water views from the banks and the newly re-constructed Riverwalk.The
Port of Salisbury Marina
 is located at the headwaters of the Wicomico River and in the heart of the City of Salisbury. It is within walking distance of the downtown Plaza area. The Marina is easily accessible to a number of services. Ask the Marina personnel about car rentals, marine supply stores, marine mechanics, and other local information. The Marina is in fresh to brackish water with an average depth of 6 feet at low tide and 11 feet at high tide.  The channel approach is an average of 14 feet at low tide and 19 feet at high tide. Also available at the Marina is a Public Kayak launch. The launch is at the end of Municipal Lot by Brew River.Via
Bike:
There are several routes that connect the greater Salisbury area to Downtown. Take a ride on the Orange or Yellow route that connects Salisbury University or ride the trails from the Salisbury City Park & Zoo. Click here to check out a map of current bike routes in Salisbury & the Downtown area.
The BPAC (Bicycle-Pedestrian Advisory Committee) advises City officials and staff on the sound development and management and safe use of the City of Salisbury's pedestrian and bicycle systems in relation to infrastructure, accessibility, and promoting the benefits of these systems. If you have any bicycle/pedestrian related recommendations you'd like to make, please reach out to the BPAC!
Group Tour Bus drop-off:
Accommodations will be made for group bus drop-offs and pick-ups on the north side of the festival, at Lot 10 – located at E. Church St & Poplar Hill St.