Festival Marketplace
APPLY ONLINE HERE (starting Feb 1, 2023)
The Festival Marketplace will offer festivalgoers the opportunity to purchase the juried, handmade creations of the finest artists and craftspeople from the State of Maryland and the surrounding region. It will include both deeply traditional crafts and more contemporary artistic expressions.
2023 Marketplace applications open February 1, 2023
2023 Marketplace applications close April 24, 2023
Marketplace Vendor Guidelines and Application may be downloaded here.
Eligible items include, but are not limited to:
● pottery
● jewelry
● paintings
● quilts
● custom furniture
● textile art
● stained and blown glass
● photography
● woodwork
● sculpture
● mixed media
● packaged food products
Ineligible items include, but are not limited to:
● crafts made from store-bought kits or molds
● commercial reproductions
● alcohol or tobacco products
● manufactured items that have been assembled
● imported finished goods
Additional notes for applicants:
● Vendors offering activities or services such as face painting or photo booths will not be considered.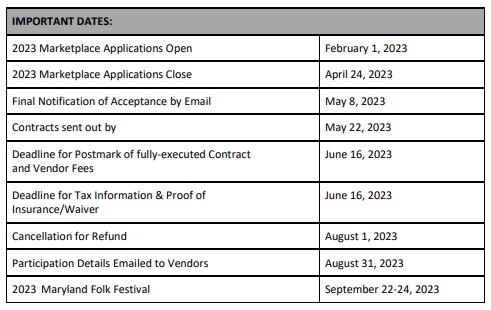 ---