Volunteers Sign-up Today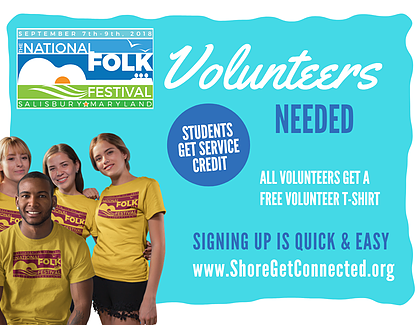 The National Folk Festival is seeking over 800  fun-loving and community-spirited volunteers to join us in September. Festival Volunteers are the lifeblood of this fantastic event. There's lots to do and we want YOU to be a volunteer at the 78th National Folk Festival in Downtown Salisbury, MD.
Volunteers get:
A FREE Volunteer t-shirt
Service credit hours (for high school and college students)
Community pride and new found friends
Experience the National Folk Festival from the inside. We've got many crews, each of which do different tasks over the weekend. You can do something suited to your own interests and expertise, or try something completely new! Volunteer shifts average 3 – 4 hours and are scheduled according to your availability.
So, what are you waiting for? Sign-up to be a volunteer TODAY!
VOLUNTEERS SIGN-UP ONLINE HERE