Updated COVID-19 Guidelines for Festival Attendees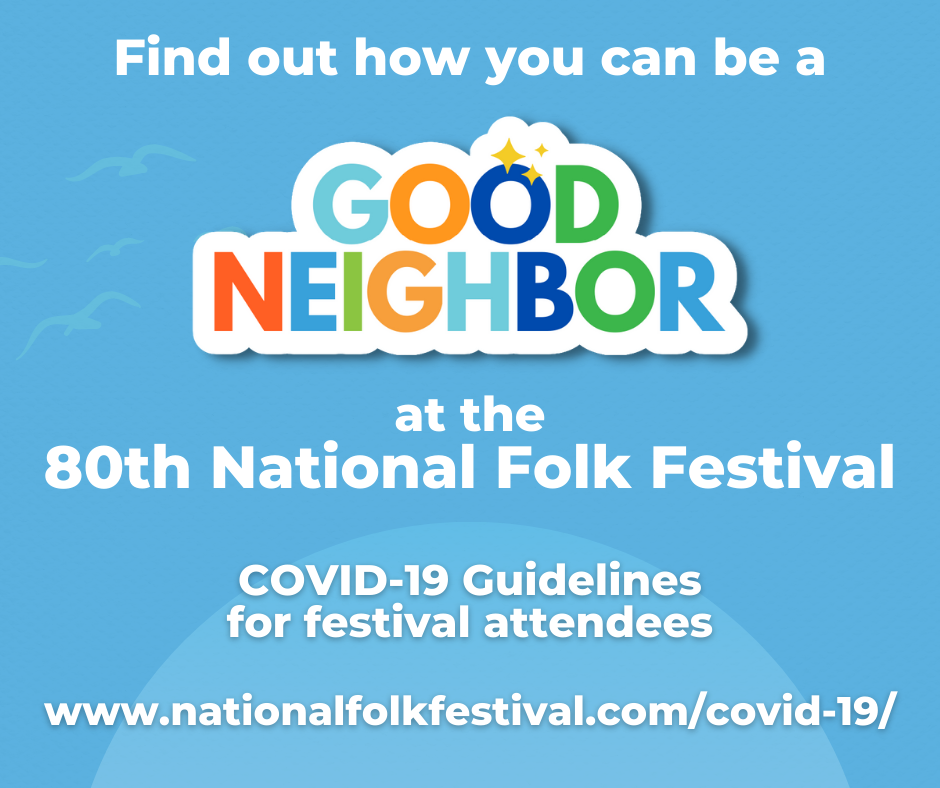 We are thrilled to be Together Again in Downtown Salisbury, Maryland, to celebrate the 80th National Folk Festival after the postponement of the event in 2020.
As the 80th presentation of the festival, it comes as no surprise to note the festival has been in many shapes, durations, sizes, and locations over many years. And, clearly, this year will be an unusual year at the National Folk Festival as we are still experiencing impacts from the pandemic.
We know our festival audience will support us in being good neighbors at this year's event and understand we are committed to hosting a safe, welcoming, and vibrant celebration in beautiful Downtown Salisbury.
The festival will continue to respond to the various recommendations from the CDC in regard to large crowds and outdoor events. We are also closely monitoring the ongoing situation  and  reviewing our plans and monitoring guidance from public health and government officials.
What should I do before I arrive?
Monitor your health. If you have any COVID-19 symptoms, you should seek medical support and follow guidance from medical providers.
Pack a mask and other PPE for your personal use. Disposable masks and sanitizers will be available at the festival.
Will I need to wear a mask?
Yes, festival attendees need to wear a mask at the 80th National Folk Festival. Come prepared, bring a mask, be a good neighbor, and protect our community.
Per CDC guidelines regarding mass gatherings, there is an inherent risk of contracting COVID-19 at any location where people are gathered. The National Folk Festival is designed so that all public activities take place outdoors, but we expect crowds and situations where social distancing is not possible. Wearing a mask will help protect you and your community during your time at the festival this year.
Common-sense exceptions may be made for eating and drinking, while social distancing appropriately.
How will this be enforced?
National Folk Festival (NFF) staff will communicate festival guidelines through stage announcements, signage, and other community outreach before and during the event. Festival guidelines are set for the benefit of all event goers. Other guidelines in the festival footprint–such as No Dogs/No bikes–are typical for creating a safe event in public spaces that are crowded and require the cooperation of attendees.
How can I social distance at a large outdoors event?
In most places where lines or groups of people may occur, the festival will place markers on the ground to help maintain social distance.
Can unvaccinated children attend the festival?
Yes, children are welcome to attend and should wear a mask. For those children under the age of two, we understand that wearing masks may not be possible. The decision to bring very young children to the festival unmasked is at the discretion of their parents and/or guardians.
What precautions are in place for the artists, staff, and crew coming into town for the festival?
NFF artists, staff, and crew have agreed to follow stringent vaccination and testing protocols. Vaccination status is in excess of 95%, and they will be masked for the duration of their work at the National Folk Festival.
What should I do if I get sick at the festival?
Upon first sign of COVID symptoms, attendees are asked to self-isolate, leave the National Folk Festival, and follow guidance from their medical providers.
Can I get a COVID-19 vaccine at the festival?
Yes, festival attendees may get a FREE COVID-19 vaccination on Saturday, September 11 and Sunday, September 12 at the festival. Festival attendees continue to be encouraged to complete their vaccinations before coming to the festival as vaccinations are most effective 2 weeks after the final dose.
The Vaccination Tent will be located at the corner of Circle Avenue and South Division Street.
No appointment is needed. Do your part to stop COVID-19 and get vaccinated.
This free public service is provided by Wicomico County Department of Emergency Services in coordination with Maryland Emergency Management Agency (MEMA) & Federal Emergency Management Agency (FEMA).
Stay tuned to www.NationalFolkFestival.com, NFF social media platforms, and other public communications for any updates or changes for attendees of the event. Thank you for being Good Neighbors!
For additional festival guidelines and information, please visit:
https://NationalFolkFestival.com/salisbury-md-event/