Food Vendors Selected for 79th National Folk Festival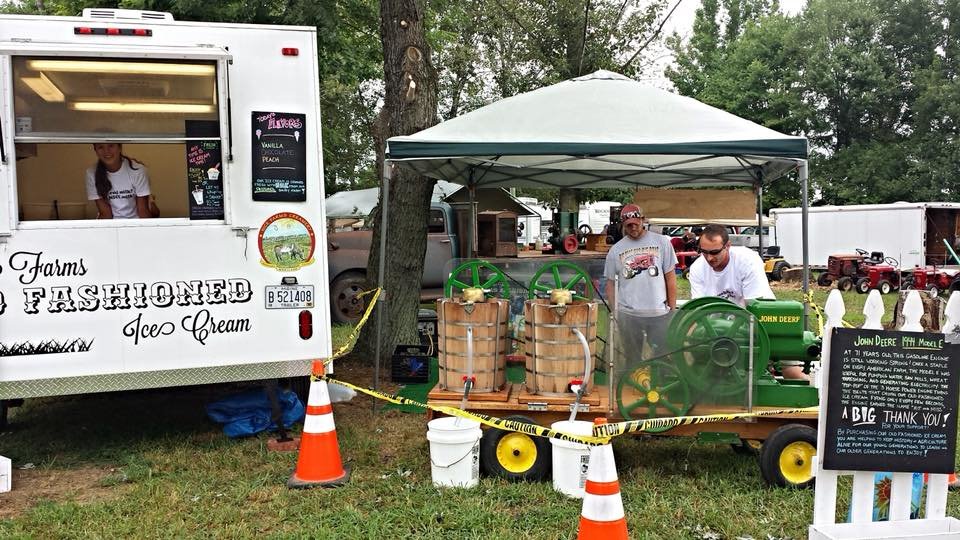 The 79th National Folk Festival has gathered together a varied group of food vendors offering a mouth-watering assortment of selections guaranteed to satisfy tens of thousands of hungry festivalgoers. When the festival returns to downtown Salisbury the weekend of September 6-8, 2019, it will feature a variety of regional and ethnic foods, as well as classic festival fare, that will take diners on a culinary journey around Delmarva, America, and the world. With choices to please every palate, the diversity of selections will include unique regional dishes such as the Chesapeake's famed crabcake sandwich, and delicious specialties from new immigrant communities who now make their home on Maryland's Eastern Shore.
A national showcase for America's finest traditional artists, the National Folk Festival will feature over 350 artists—musicians, dancers, craftspeople, storytellers, and other tradition bearers—with more than 35 different groups performing on the festival's seven stages. The National Folk Festival is FREE to the public.
2019 Festival Food Vendors include:
The Chicken Smells Good
Bourbon or Jerk: the chicken smells good! Opt for veggie pasta or rice, fresh cut fries, or crispy veggie rolls.
Cup O' Dough/ Oh My Chocolate
Eastern Shore Delectables include chocolate dipped pies, cheesecake, bananas & pineapple. Plus, Edible Cookie Dough!
Deep Fried
Corn harvested fresh and brought to site for roasting. Plus, lemonade is truly fresh squeezed when ordered.
Eastern Shore Kettle Korn
The iconic, unmistakably-Eastern Shore treat which blends sweet and salty to provide a one-of-a-kind experience that you just can't find across the bridge.
Espresso A Go Go Catering
Espresso-A-Go-Go offers a wide variety of beverages in addition to vegan and vegetarian-friendly sweets.
Four Brothers OPA!
OPA! Authentic Greek palate pleasers include gyro, falafel, dolmades, hummus, Greek salad, feta fries & baklava.
Four Brothers-Bacon!
Bacon makes it better! Burgers, dogs, cheese fries, cheesesteak, scallops, & more. Bacon elevates the plate!
The Frozen Farmer
Family-owned and operated, The Frozen Farmer rightly boasts Delaware's richest, creamiest, made-from scratch ice cream made possible through painstaking preparation and farm-fresh ingredients.
Fruity Smoothies
A tasty assortment of freshly-prepared smoothies, fruit drinks, and delicious deserts.
Goatocado
Fresh, fun, healthy, and, above all, delicious meals which incorporate a variety of cultures and a vibrant assortment of ingredients.
Hawaiian Bryan's Aloha Shop
Salisbury local "Hawaiian Bryan" is serving up authentic shaved ice flavors from his native Hawaii.
Holy Smoke
Divine, local BBQ! All your favorites and a kids' menu sure to please.
Hop Diggity Dog
Based locally, United House of Prayer, aka "H.O.P" Diggity Dogs provides its goers delicious burgers, dogs, & kielbasa using locally-provided ingredients.
Island Noodles
Island Noodles is a unique, healthy meal featuring fresh-made soba noodles, a variety of 21 fresh vegetables, and a top-secret, proprietary sauce.
Jadeans Smokin Six O
Smoking up a storm since 1976, Jadeans has all manner of BBQ goodness from the home of the "Frisky Brisket Sandwich" and "The Red Neck Sundae!"
MacBrand Foods
Family-owned and specialized in event catering, MacBrand offers a diverse array of classic favorites – sausage, cheesesteak, burgers, foot long corn dogs, and fried pickles!
The Milestone Catering & Events
Pit beef and crab cakes to rave about crafted with artisan patience and attention to detail you can taste. Pit beef cooked on site and sliced to order, and crab-filled cakes from an old family recipe.
Nice Farms Creamery
A creamy, dreamy, TRUE "cow to cup" ice cream, four generations in the making! Nice Farms Creamery is a family run, local, sustainable, pasture-fed dairy. This Salisbury farm honors the best of tradition: come check out the 1942 John Deere engine-powered ice cream churn!
Pete's PeteZa
Chewy, gooey, and delicious! Pizza, wings, buffalo chicken logs, and more!
The Return of the Mac
The Return of the Mac brings fresh, distinct take to mac-and-cheese with a blend of iconic sauces and ingredients to provide a diverse, globally-inspired menu.
Sherri's Crab Cakes
As their name indicates Sherri's crab cakes' specialty is fresh, always-delicious crab cakes—including sandwiches and platters—along with soups and beverages.
Smoke, Rattle & Roll
BBQ! Get your Pork, Chicken, or Brisket pulled on a sandwich, nachos, tacos, or mac & cheese. Mmm, please!
Smoothie Island
Real fruit, real smooth! Try their signature fresh pineapple smoothie that is 100% natural no sugar added.
Spready Oak Country Cafe
Great home cooked food! BBQ Sandwiches, sausages, and fresh cut fries.
Thai Master Grill
This family-owned and operated restaurant provides a taste of authentic Thai cuisine including Pad Thai, Teriyaki and vegetarian options.
Tiki Grill
A festival favorite featuring hula hula chicken, Island Style steak & cheese, puka dogs, garbage fries, and blooming onions!
Downtown Salisbury
For those looking for even more dining options, the National Folk Festival is situated in the heart of Downtown Salisbury, which is home to many amazing eateries! Delicious desserts, savory meals, quick bites, cups of coffee, and much much more! Be sure to check out the Downtown Salisbury website and select "Restaurants" to learn more!
Beverages
Throughout the Festival, you'll find a variety of non-alcoholic refreshments – soft drinks, fruit drinks, smoothies and more – to choose from.
The National Folk Festival in Salisbury, Maryland will proudly feature local craft beer and wine, plus the internationally-renowned Guinness, which is now Maryland-brewed at the company's new facility in Baltimore.