Festival Parking Plans Announced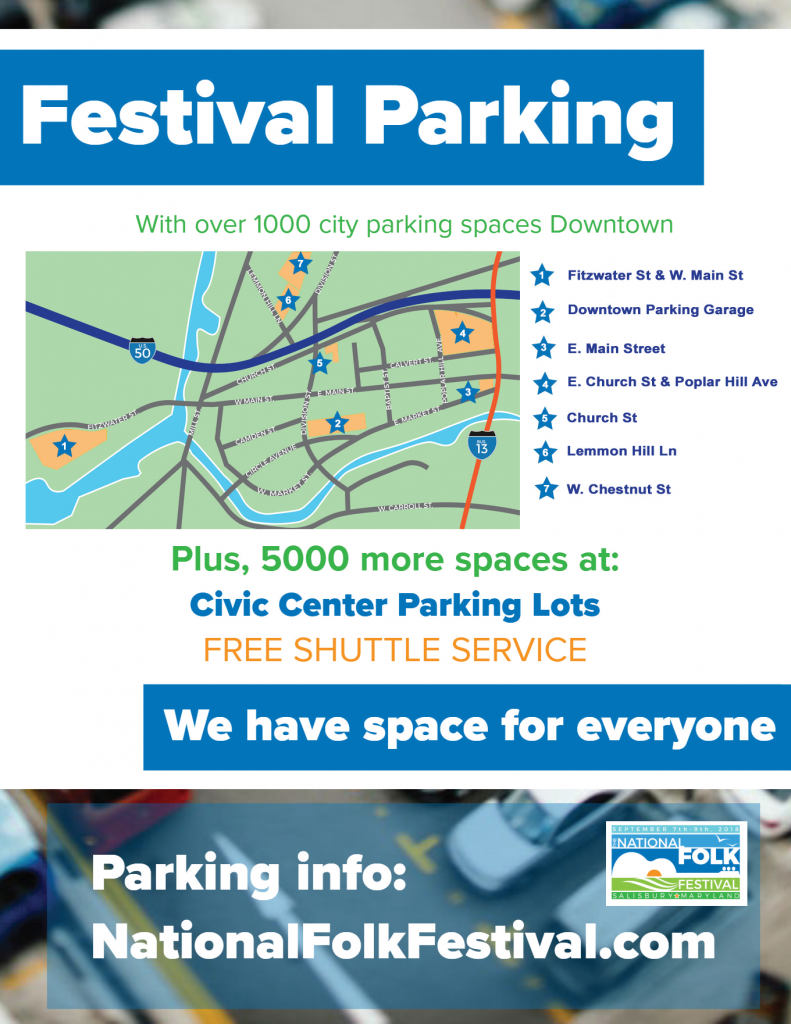 Parking locations and a free shuttle service have been announced for festival goers wishing to drive to the 78th National Folk Festival taking place over the weekend of September 7- 9, 2018, in downtown Salisbury.
"With about 1,000 parking spaces located in our downtown parking lots and garage, plus 5,000 parking spaces available at and next to the Wicomico Youth & Civic Center, we have space for everyone," said Caroline O'Hare, local manager of the National Folk Festival.
Free parking provided by the City of Salisbury include the following downtown locations:
Lot 35, Fitzwater St & W. Main St
Lot 7, Lemmon Hill Ln
Lot 13, W. Chestnut St
Lot 9, Church St
Lot 10, E. Church St & Poplar Hill Ave
Lot 5, E. Main St
E. Market St
Downtown Parking Garage
National Folk Festival Parking
The National Folk Festival has partnered with Shore Transit to provide free shuttle service to the Festival's satellite parking lots located at the Wicomico Youth & Civic Center, Wicomico County Stadium, and on the parking grounds of the former Salisbury mall. Shuttles will pick-up festival goers every 10 minutes and will run in 30-minute cycles.
To learn more about festival parking, please visit our DIRECTIONS & PARKING PAGE