Chesapeake Traditions at the National Folk Festival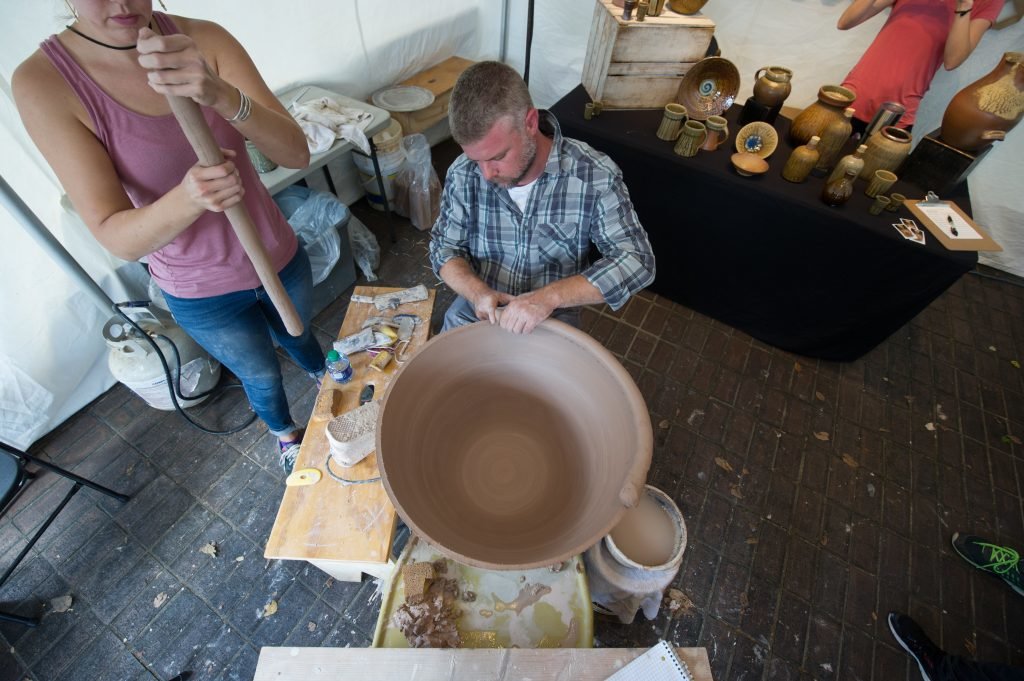 THIS JUST IN – the 78th National Folk Festival announced today the Maryland Traditions Folklife Area & Stage program, sharing details about the performers, craftspeople and demonstrators who will be featured in this special area of the Festival in 2018, the first year of the event's three-year residency in Salisbury.
Adding to the festive air of the press event was the participation of three masters of Maryland folklife: Rich Smoker, Janice Marshall and the Sensational Royal Lights, who will be among those featured in the Festival's 2018 folklife program.
Chesapeake Traditions is the theme of the 2018 Maryland Traditions Folklife Area program. Curated by Maryland Traditions, the folklife program of the Maryland State Arts Council, and the Ward Museum of Wildfowl Art, Salisbury University, Chesapeake Traditions will explore the region's rich material, occupational, sacred and musical traditions, which have flourished in the state's maritime, marsh and agricultural communities for generations. It will feature approximately 20 artists from throughout the Chesapeake region during the free festival. Additionally, the Maryland Traditions Folklife Area & Stage will feature 16 performers and craftspeople from the Maryland State Arts Council's Maryland Traditions Apprenticeship Awards program. The Maryland Traditions Folklife Area will open at noon on both Saturday, Sept.8, and Sunday, Sept. 9, and continue until early evening each day along Salisbury's downtown Riverwalk.
"The National Folk Festival is the best possible showcase for artists who are inspired by, and respond to, creative energies that operate on a cellular level. There is an urgency in the necessity to share creative traditions that is as exciting to the audience as it is to the artist," said Maryland State Arts Council Executive Director Ken Skrzesz.
"Chesapeake Traditions is an ideal theme for our inaugural year of the National Folk Festival in Salisbury, as the Chesapeake Bay has shaped so many communities and the economy of the state for generations, and been a base of creativity for the people of Maryland," said National Council for the Traditional Arts Executive Director Julia Olin.
The Maryland Traditions Folklife Area is produced in partnership with Maryland Traditions, the folklife program of the Maryland State Arts Council, and the Ward Museum of Wildfowl Art, Salisbury University. Avery Hall Insurance has generously sponsored the Maryland Traditions Folklife Stage, allowing for some of the state's finest performers to share their traditional art forms with the festival audience. Additional support for the Maryland Traditions Folklife Area has been provided by The O'Hare Team at Berkshire Hathaway HomeServices PenFed Realty and Selective Insurance.
The Chesapeake Traditions program will feature:
Rhonda Aaron of Church Creek, sharing her extensive expertise of eel pot construction and traditional trapping techniques.
Jay Armsworthy & Eastern Tradition of California (MD), performing hard-driving bluegrass and beautiful harmonies from southern Maryland.
Hugh & Zane Campbell of Elkton, bluegrass and old-time musicians with a rich family ancestry of traditional Appalachian mountain music.
Chesapeake Bay Maritime Museum of St. Michaels, led by shipyard manager Michael Gorman, who will construct a Smith Island-style skiff from start to finish on the festival grounds.
Joyce Fitchett of Crisfield, eight-time crab-picking champion at the National Hard Crab Derby in Crisfield, demonstrating occupational crab-picking practices.
James Lane of Crisfield, a community scholar, advocate, and native of Crisfield, sharing his knowledge of local heritage and cultural traditions.
Phil Langley of Dameron, with Fish the Bay Charters, presenting his unique experience as a charter fishing boat captain who is also involved in the Chesapeake's heritage tourism industry.
Janice Marshall of Crisfield, who is deeply rooted in Smith Island traditions, demonstrating crab-picking practices and telling stories about the Smith Island way of life.
Mary Ada Marshall of Tylerton, a Smith Island tradition bearer who is known for her expertise about the process of making Smith Island cake.
Jay Martin of Eden, creator of Provident Organic Farms, sharing his expertise in sustainable food systems in the region.
Pocomoke Indian Nation of Eden, an indigenous tribal organization of the Eastern Shore, demonstrating and interpreting varied Pocomoke traditions and lifeways.
Newell Quinton of Mardela Springs, a scrapple maker and San Domingo community scholar, demonstrating the tradition of scrapple making and its history.
Singing & Praying Bands of Maryland and Delaware (Anne Arundel and Dorchester counties, Maryland, and Sussex County, Delaware), presenting one of the oldest, most historic African American traditions of religious worship still active today.
The Sensational Royal Lights of Catonsville, a family gospel group founded over six decades ago near Cambridge that continues to perform quartet-style gospel music throughout Delmarva.
Kermit Travers of East New Market, a retired skipjack captain of Dorchester County, sharing his vast knowledge of skipjacks and maritime heritage in the Chesapeake Bay.
Michael Whidbee of Crisfield, who will demonstrate the oyster-shucking skills and techniques he has developed over a lifetime in the industry.
Stoney Whitelock of Deal Island, a fourth-generation skipjack captain, who will share the history of skipjacks as working vessels and their centrality to the Chesapeake Bay.
Phil Wiggins Blues House Party of Takoma Park, fronted by an award-winning harmonica wizard, with an exuberant celebration of Piedmont blues music and dance inspired by rural house parties.
In addition to the Chesapeake Traditions demonstrations and performances, Sunday September 9th will feature performances by Maryland Traditions Apprenticeship Awards' master/apprentice teams:
Shodekeh & Ian Hesford of Baltimore, Tuvan throat singing
Mama Linda Goss & Dr. David Fakunle of Baltimore and Laurel, African American storytelling
Andrea Hoag & Christopher Ousley of Brentwood, Swedish fiddling
Mohammadreza Kazemifar & Ali Analouei of Potomac and Rockville, Persian classical singing
Chum Ngek & Suteera Nagavajara of Gaithersburg and Takoma Park, homrong (Cambodian classical music)
Anna Pasqualucci & Lisa Marie Penn of Lithicum (MD) and Glen Rock (PA), screen painting
Rick Smoker & Kenny Glasgow of Marion Station and Princess Anne, decoy carving
Sebastian Wang & Sanghyuk Park of Kensington and Laurel, samulnori (traditional Korean percussion)
The 78th National Folk Festival will feature approximately 350 musicians, dancers, puppeteers, storytellers, and craftspeople, continuous performances on seven stages, the Maryland Traditions Folklife Area & Stage, a dance pavilion, a Family Area, a Festival Marketplace, and regional and ethnic foods. The three-day Festival is FREE to the public.
For more information on the Maryland Traditions Folklife Area program, visit our Folklife page.