Be a Volunteer – Shifts now Open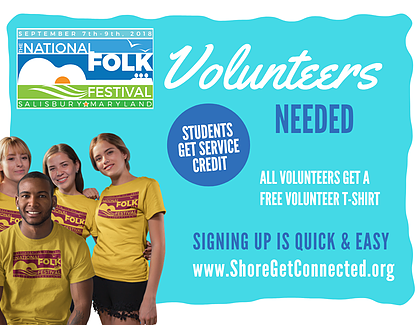 Over 800 volunteers needed to fill a variety of positions for the free, 78th National Folk Festival taking place in downtown Salisbury, September 7 – 9, 2018
Salisbury, MD, June 5, 2018 —The National Folk Festival has announced that volunteer shifts are now posted and OPEN for online sign up. Partnering with the United Way of the Lower Eastern Shore's Get Connected Volunteer Center, the Festival has made it easy for prospective volunteers to sign up for the job they want to do and the day(s) and time(s) they want to work. In just a matter of minutes, you can select and sign up for your perfect National Folk Festival volunteer position.
With over 800 volunteers needed for the Festival to run smoothly, volunteer recruitment is key to the event's success. Projected attendance is 60,000 – 80,000 for the three-day, FREE Festival, which will take place in downtown Salisbury on September 7, 8 and 9, 2018.
Volunteers may sign up individually or with groups of friends or business associates. The average length of a volunteer shift is three to four hours; prospective volunteers may sign up for several shifts during the three-day event. From helping to keep our Festival 'Green' to assisting in merchandise sales to being a part of the 'Bucket Brigade,' there are dozens of opportunities for teens and adults to get involved.
With many different volunteer roles available, people may choose what jobs they're interested in as well as their preferred time slots when registering online. All volunteers will be asked to attend an orientation session.  Depending on their role, some volunteers will also participate in training sessions.
Each volunteer will get a National Folk Festival Volunteer t-shirt, receive service hours (for students), and gain a wonderful sense of community pride – PLUS, make new friends and learn new skills, too!
National Folk Festival Local Manager Caroline O'Hare said, "Volunteers are in for something quite special. They will get to experience the National Folk Festival from the inside; really getting up close to what makes the Festival work. And the Festival doesn't work without amazing volunteers."
"Volunteering is fun and provides people of all ages and backgrounds the opportunity to serve our community," adds Pam Gregory, Community Impact Director at the United Way of the Lower Eastern Shore. "The National Folk Festival is a fantastic way for us to showcase how working together can lift us all up."
To learn about volunteer roles and to sign-up visit www.ShoreGetConnected.org  or e-mail Festival Volunteer Coordinators Mark DeLancey and Kendall Krach at volunteer@nationalfolkfestival.com with any questions.