Announcing the Maryland Folklife Area Program at the 79th National Folk Festival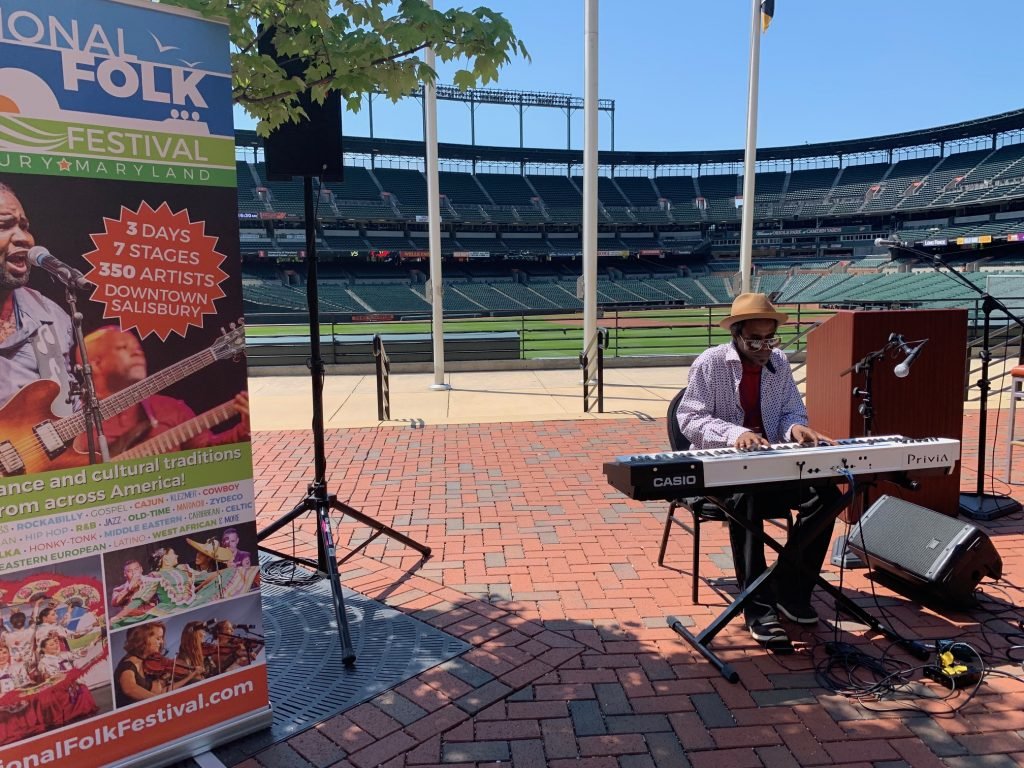 Today, at Oriole Park at Camden Yards in Baltimore, the 79th National Folk Festival announced the Maryland Folklife Area & Stage program, sharing details about the performers, craftspeople, and demonstrators who will be featured in this special area of the festival in 2019. The National Folk Festival is returning to downtown Salisbury, September 6 – 8, 2019, the second year of the event's three-year residency on Maryland's historic Eastern Shore.
Contributing to the sense of excitement and expectation at the press conference were three masters of Maryland folklife who will be among those featured in this year's Maryland Folklife Area Program: Lafayette Gilchrist (jazz piano), members of Artesanas Mexicanas (piñata making), and Patrick and Joseph Kavanagh (metal bending and rolling).
The Maryland Folklife Area & Stage celebrates and showcases the rich, living traditions that create identity and sense of place in communities across the state. With a different theme each year, the Folklife Area will shine a spotlight on the distinctive music, rituals, crafts, occupations, foodways, and other traditions at the heart of Maryland heritage. Performances, demonstrations, displays, exhibits, and narrative presentations by Maryland masters will express both the state's deep history and its evolving character.
In 2019, Maryland folklife is celebrated in a special program entitled Maryland Masters. Supported by Maryland Traditions, the folklife program of the Maryland State Arts Council, Maryland Masters will showcase traditions held deeply in the state's diverse communities, including Maryland's most longstanding residents as well as its newest arrivals. Since 2004, the Maryland State Arts Council has given Folklife Apprenticeship Awards to support master/apprentice teams that carry forward a rich array of cultural traditions to future generations. From Appalachia to the Atlantic and urban to rural, from music and dance to decorative and occupational crafts, Maryland Masters will highlight the breadth, depth, and vitality of the state's best traditional artists through performances and demonstrations from select past masters as well as the current Folklife Apprenticeship Award recipients. A special showcase on Sunday, September 8th will feature performances, demonstrations, and narrative sessions that highlight the current 2018-19 Folklife Apprenticeship Award recipients.
"As we enter our second year in Salisbury with the National Folk Festival, the Maryland Folklife Area's 2019 program, Maryland Masters, brings together artists from 15 years of the Folklife Apprenticeship Awards program, which pairs a master and an apprentice in the teaching of folklife skills. The passing down of folklife in a wide range of living cultural traditions is a hallmark of Maryland Traditions, and this program shares some of our most successful partnerships," said Chad Buterbaugh, director of the Maryland Traditions program at the Maryland State Arts Council.
"Much like the National Folk Festival celebrates the nation's finest traditional artists, the Maryland Masters program, which we are pleased to announce at Camden Yards, is a chance to honor the state's very best traditional artists. The commitment of these artists illustrates the value of passing cultural heritage to the next generation, be that music and crafts or even community traditions of sport and play, like baseball," said National Council for the Traditional Arts Executive Director Lora Bottinelli.
On hand for today's announcement at Oriole Park at Camden Yards, in addition to the artists mentioned previously, were Maryland Folklife Area program curators Chad Buterbaugh, director of the Maryland Traditions program, and Josh Kohn, folklife coordinator for the National Folk Festival. Also participating were Mayor Jake Day, City of Salisbury; Caroline O'Hare, Local Manager, National Folk Festival; and Lora Bottinelli, Executive Director, National Council for the Traditional Arts.
The Maryland Folklife Area is produced in partnership with Maryland Traditions, the folklife program of the Maryland State Arts Council.
The Maryland Masters program will feature (* indicates current 2018-19 Folklife Apprenticeship Award recipients):
Artesanas Mexicanas of Baltimore, a collective of female artisans hailing from Mexico, Ecuador, and El Salvador demonstrating traditional and contemporary piñatas as well as leading festival attendees in flor de totomoxtle (corn husk flower) making workshops.
*Brendan Mulvihill & Emily Martin of Virginia (formerly of Silver Spring) and Boyds, performing Irish fiddle tunes with step-dance accompaniment from Shannon Dunne.
Carla Tomaszewski of St. Mary's County, demonstrating the intricate and fragile Polish pisanki (painted egg) tradition.
*Carolyn Rapkievian & Kristine Antanesian of Washington Grove and Clarksburg, sharing Armenian folk dances from the Anatolia region to the accompaniment of traditional Armenian music provided by the Hyetones.
Cheick Hamala Diabate of Adelphi, ngoni and banjo player as well as singer and storyteller, fronting a dynamic band and sharing his 800-year old West African griot tradition with a contemporary spin.
Daniel Van Allen of Baltimore, a furniture restorer, demonstrating different techniques he uses in his work.
*James McMartin, James Beggins, & Mark Wiest of Wittman, demonstrating furniture making using traditional techniques.
*John Van Alstine of Shady Side, a Chesapeake Bay crabber, sharing the crab pot building and rigging techniques that he uses to produce up to 300 new pots a year by hand.
*Joseph & Patrick Kavanagh of Baltimore and Abingdon, sharing their family heritage in metal bending and rolling which the Joseph Kavanagh Company has practiced in the region since the 1860s.
Katherine Fahey of Baltimore, performing scrolled panorama storytelling, known as crankies, about Baltimore arabbers, with support from arabber Leonard "Felix" Wills.
*Leonard "Felix" Wills of Baltimore, an arabber and long-time fixture on Baltimore streets selling produce and other wares from his horse-drawn wagon, sharing arabber cart restoration techniques.
*Lustre Quartet & Electric Avenue Quartet of Baltimore, performing Sweet Adelines vocal harmony, also known as barbershop quartet singing, which earned Lustre Quartet a national championship in 2018.
Marimba Linda Xelajú of Silver Spring, sharing their family Guatemalan marimba tradition, with "all hands" in the family playing on their beautifully ornate marimba at the same time.
Maryland Honky-tonk Masters: a knock-out revue of Maryland honky-tonk and country music, featuring the "titan of the Telecaster," Bill Kirchen of Austin, Tex. (formerly of the Calvert County), along with singer Ann Porcella of Baltimore and songwriter/vocalist Arty Hill of Baltimore, backed by Arty's ace-band, the Long Gone Daddys.
Maryland Piano Masters: boogie-woogie piano master Daryl Davis of Silver Spring and jazz pianist Lafayette Gilchrist of Baltimore share the stage for a set of jaw-dropping piano music.
*Meki's Tamure Polynesian Arts Group of Brooklyn Park, showcasing the drumming and dancing traditions of Polynesia.
The Painted Screen Society of Baltimore, demonstrating the distinctive Baltimore tradition of painted screens and leading festival attendees in hands-on, painted-screen-making activities.
Pete Ross of Baltimore, demonstrating gourd banjo making as well as "classic era" (1890-1910) banjos designed for a contemporary setting, with intricate mother-of-pearl inlays, engravings, hardwood necks, and ebony fingerboards.
Rico Newman of University Park, a member of the Choptico Band of the Piscataway, sharing Native finger weaving techniques used to make sashes, belts, and garters worn in ceremonial and practical settings.
*Ruben Dario Corona & Oliver Trinidad Corona of Baltimore, creating custom haircuts on (willing) festival attendees and showing off their Dominican barbering craft.
Shanthi Chandrasekar of North Potomac, demonstrating the ephemeral kolam painting tradition of South India and Sri Lanka.
Tebabu Assefa and Sara Mussie of Takoma Park, coffee roasters leading festival attendees in the beautiful and ancient Ethiopian coffee ceremony.
Trinidad and Tobago Baltimore Steel Orchestra, led by steel pan master Richard Semper and now boasting three generations of players, performing the steel pan orchestra sound so closely identified with the island of Trinidad and Tobago.