79th National Folk Festival Marketplace Applications Open To Maryland and Delmarva Artisans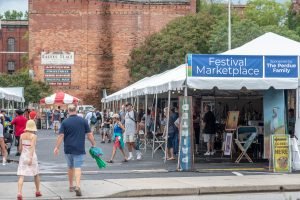 Salisbury, MD – The search for the finest artisans and craftspeople in Maryland and on the Delmarva peninsula launches December 11. Selected applicants will be invited to join the 79th National Folk Festival, coming to Salisbury, Maryland, September 6 – 8, 2019. Applications may be submitted through the festival portal on SlideRoom (https://nationalfolkfestival.slideroom.com/)
Application Deadline: Monday, April 1, 2019
The Festival Marketplace at the National Folk Festival will exclusively feature the juried, handmade creations of the finest artists and craftspeople from the State of Maryland and the Delmarva Peninsula. It will include both deeply traditional crafts and more contemporary artistic expressions.
In 2018, just a few of the artisans selected to participate included: The Painted Screen Society of Baltimore, Counterpoint Studio, Erick Sahler Serigraphs Co., Make Studio, Eddie Wozny Shorebirds and Waterfowl Carvings, White Clover Kiln, Dropping Acorns.
In order to ensure quality and integrity, a committee selects vendors based on a set of criteria that includes:
artistry
craftsmanship
distinctiveness
traditionality (if applicable)
connection to state/regional/local traditions
artist's relationship to his/her cultural/artistic community
presentation (booth)
The committee reviews all applications and selects vendors who best meet these criteria.
Eligible items include, but are not limited to:
pottery
jewelry
paintings
quilts
custom furniture
textile art
stained or blown glass
photography
woodwork
sculpture
mixed media
packaged made-in-Maryland/Delmarva food products
Ineligible items include, but are not limited to:
crafts made from store-bought kits or molds
commercial reproductions
alcohol or tobacco products
imported finished goods
manufactured items that have been assembled
Additional notes for applicants:
Vendors offering activities or services such as face painting or photo booths will not be considered.
All packaged food items sold must be made in the state of Maryland or on the Delmarva Peninsula.
The Festival strives to present a well-rounded marketplace; therefore, we may limit multiple vendors showcasing similar items.
Applicants will receive notification regarding acceptance status in no later than April 22, 2019.
The National Folk Festival reserves the right to deny any application without explanation.
Applicants MUST read through the Festival Marketplace Guidelines BEFORE they consider applying. The guidelines may be found and downloaded on the festival website at: https://www.nationalfolkfestival.com/marketplace-vendors
APPLICATION PROCESS
Applying vendors are required to submit the following electronically through the festival portal on SlideRoom (https://nationalfolkfestival.slideroom.com/) by no later than April 1, 2019:
A completed and successfully submitted festival marketplace vendor application.

Applicants will receive email confirmation of their successful submission. If you DO NOT receive a confirmation, your application was not successfully submitted and therefore will not be considered. It is the vendor's responsibility to ensure a successful application has been submitted.
Festival organizers may request clarification; failure to provide requested clarification is grounds for rejection.

Four (4) current photographs of their artistic work to be sold.
One (1) current photograph of their booth sales operation.
A non-refundable $35 application fee must be submitted with your application by credit card.
Additional Application Information
Application does not guarantee acceptance.
Vendors must apply each year in order to be considered. Acceptance in 2019 does not guarantee acceptance in future years.
Failure to meet application deadline may result in rejection of application.
SELECTION PROCESS
The number of festival marketplace vendors selected for the 2019 National Folk Festival will depend on the final site design layout. The Festival anticipates that with good weather, approximately 100,000 individuals will attend over the course of the weekend and that between 30 and 40 vendor spots might be available to meet the demands of this crowd size.
All festival marketplace vendors are reviewed by a committee. Applications will be evaluated according to the criteria cited above. Applicants are asked to please provide clear photos of your product and vending space so that your products are represented to our committee accurately.
Applicants will receive notification by email regarding acceptance or rejection by no later than April 22, 2019.
The National Folk Festival reserves the right to deny any application without explanation.