2019 Marketplace Artisans Selected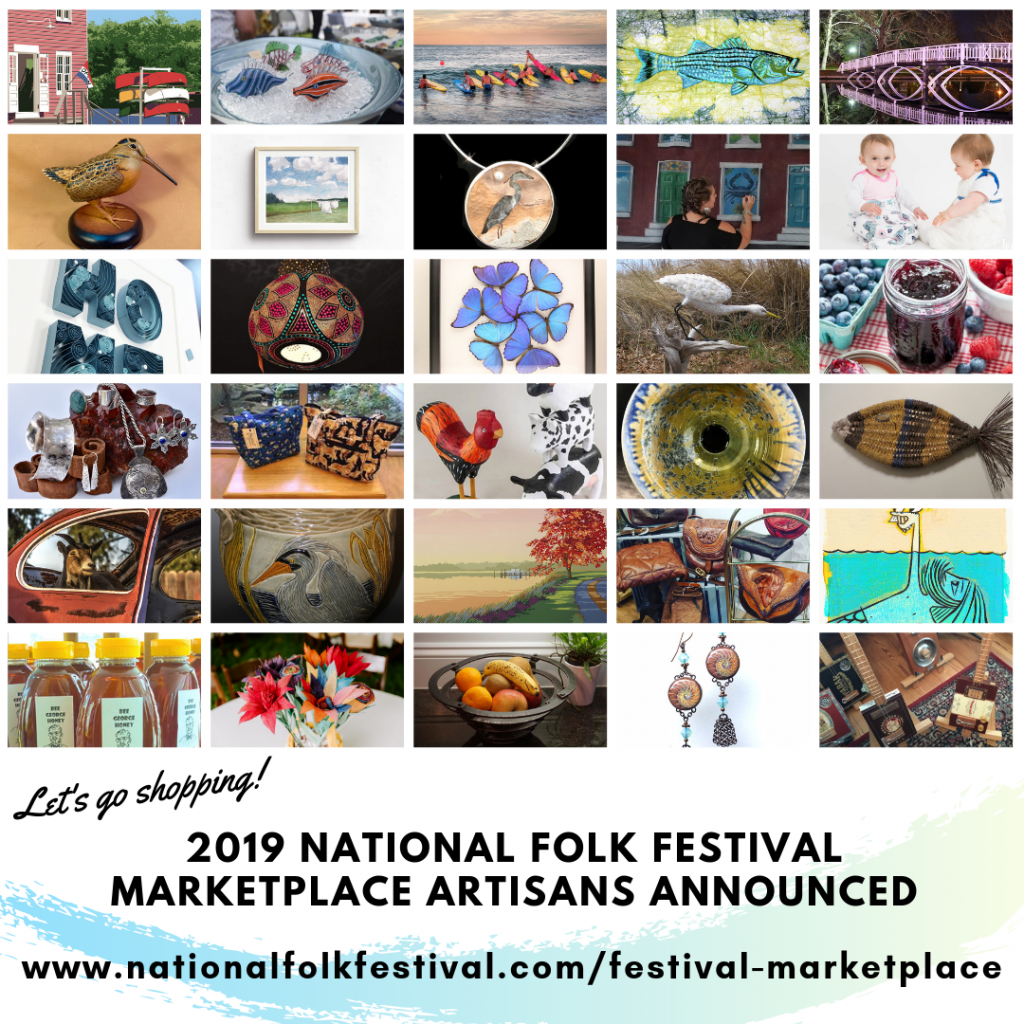 The National Folk Festival is pleased to announce the talented artisans and craftspeople who will be featured in the festival's juried Marketplace in 2019. The Festival Marketplace will offer festival attendees the opportunity to purchase handmade creations from 30 of the finest artists and craftspeople from the State of Maryland and the Delmarva Peninsula. It will include both deeply traditional crafts and more contemporary artistic expressions.
Reviewed by a committee with deep ties to the arts in Maryland, artisans were selected based on a set of criteria that included artistry, uniqueness, authenticity, connection to local, state, and regional culture, and relationship to artist's community, among others. The broad range of offerings include leatherwork, painted screens, jewelry, pottery, and more.
In addition to the Marketplace, festival attendees are sure to enjoy downtown Salisbury's wide selection of retail shops and eateries just steps away from most stages. For more information on where to shop and eat downtown, visit: http://downtownsby.com/businesses/.
The 79th National Folk Festival returns to downtown Salisbury the weekend of September 6-8, 2019. Presented FREE to the public, the festival is a national showcase for America's finest traditional artists, and will feature over 350 artists—musicians, dancers, craftspeople, storytellers, and other tradition bearers—with more than 35 different groups performing on the Festival's seven stages.
2019 Festival Marketplace artisans include:
Amused Studios (Salisbury, Maryland)
www.amusedstudios.org
Amused Studios is a home-based pottery studio specializing in ceramic mugs, coin banks, bottles, bowls, vases, and decorative art works by Robert Johnson and Sarah Halcott. They have won several awards for their dramatic black-and-white horsehair and red-mottled, saggar-fired pottery pieces.
Artesanas Mexicanas (Baltimore, Maryland)
www.creativealliance.org/programs/artesanas-mexicanas
Hailing originally from Mexico, Ecuador, and El Salvador, this multigenerational collective of female artisans crafts traditional and contemporary piñatas as well as flor de totomoxtle (corn husk flowers), jewelry, and colorful alebrijes (sculptures of fantastical creatures). They honor their shared Latin American heritage through these Mexican traditional arts and crafts, which are taking root and thriving in Southeast Baltimore.
Bay Fibers Studio (Leonardtown, Maryland)
www.bayfibersstudio.com
Eric Clark Jackson reflects the diversity of Chesapeake and Atlantic wildlife in his hand-waxed and dyed batiks. Each handmade piece balances beauty and biological accuracy, as expresssed using traditional Indonesian batik-dye methods on all-natural cotton fabric.
BeeGeorge Honey (Oxford, Maryland)
www.beegeorgehoney.com
George Meyer draws on a lifelong passion for bees and beekeeping to bring the sweet taste of the Eastern Shore to market. He and his bees produce pure, local honey from 200 bee colonies in the Oxford-Trappe area of Talbot County. George will offer free tastings and will bring an enclosed observation hive for festivalgoers to learn more about beekeeping.
BugZen (Eden, Maryland)
www.etsy.com/shop/BugZen
As a biologist and an artist, Megan Wikander combines her two passions by creating remarkable mosaic art pieces utilizing insects and fossils. BugZen showcases the delicate beauty found in nature with framed insects, fossils, and gemstones.
Bumbershoots by Nana (Lothian, Maryland)
www.bumbershootsbynana.com
Judith Carr handcrafts whimsical works of wearable art for infants and toddlers, from luxurious sleep sacks and jammies to blankets and stuffed animal buddies. She hand-sews each item following her own design and featuring a wide array of colorful and clever fabric patterns.
Counterpoint Studio (Salisbury, Maryland)
www.counterpoint.studio
Metalsmith Wanda Jester creates unique nature-inspired metal and watercolor paper jewelry out of her home-based studio in Salisbury. Her jewelry collections are inspired by the birds, sealife, and natural landscapes of the Eastern Shore.
David Janni (Chance, Maryland)
Drawing on materials recycled from nature, such as oyster shells and driftwood, David Janni shapes one-of-a kind wildlife sculptures of the birds and sea creatures of coastal Maryland.
Divine Planet Studio (Marriottsville, Maryland)
www.etsy.com/shop/divineplanet
Jeweler and sculptor Marghi Barnes creates mixed-media jewelry from glass, beads, wood, and collaged images, often featuring ocean themes. For her sculptural chandeliers, she uses found materials, like Chesapeake Bay driftwood or tree branches.
Eddie Wozny Shorebirds and Waterfowl Carvings (Cambridge, Maryland)
www.eddiewozny.com
Acclaimed waterfowl and decoy carver Eddie Wozny specializes in hand-carved wooden sculptures of shorebirds, Maryland blue crabs, waterfowl, and wildlife of Maryland's Eastern Shore. His carvings capture an "old world" duck decoy carving style and he often depicts birds in flight. His work has been featured around the world and exhibited in the Ward Museum of Wildfowl Art.
ELF Moments of ZEN Photography (Fruitland, Maryland)
www.elfmomentsofzen.com
Erika Lewis Forsythe is a fine art photographer whose images inspire viewers to pause and be present, whether admiring Maryland beaches or dreaming of distant shores. She is also known for the quality and detail of her extreme close-up photos, featuring flowers reminiscent of Georgia O'Keefe paintings.
Erick Sahler Serigraphs Co. (Salisbury, Maryland)
ericksahler.com
Eastern Shore artist Erick Sahler is a member of New York's distinguished Society of Illustrators. He designs and produces vibrant, hand-pulled silkscreen prints inspired by the images and icons of the Chesapeake Bay region. His illustrations can also be found on postcards, notecards, stickers, magnets, and T-shirts.
Jeanne Norton Hammett Serigraphs (Saint Inigoes, Maryland)
www.jeannenortonhammett.com
With over 40 years of experience, Jeanne Norton Hammett has honed her skills as a fine artist by focusing on hand-made, limited-edition, Chesapeake-themed silk screen prints known as serigraphs. Her art mirrors the beauty of rural southern Maryland, especially Saint Mary's County, which she calls home.
Lil' Kitchen Canner (Princess Anne, Maryland)
www.facebook.com/lilkitchencanner
Tanya Ahalt specializes in canned goods, including gourmet jams and jellies with unique flavor profiles like carrot cake jam. Her popular "farm dust" seasoning is a favorite on the Eastern Shore.
Kelley's Creations (Snow Hill, Maryland)
www.kelleyscreations.etsy.com
From a young age, textile artisan Kelley Gravenor loved to watch her grandmother sew on a foot-powered treadle machine. This early experience inspired her to start her own small business offering distinctive quilted fabric handbags, totes, and accessories. Her traditional designs touch on the natural beauty of life on the Eastern Shore.
Kim Bemis (Ocean View, Delaware)
www.kimbemis.com
Fine art photographer Kim Bemis finds the unexpected in the familiar, capturing colorful images of seascapes, landscapes, and wildlife across the Delmarva Peninsula. His work is featured on everything from prints and stationery to tote bags and yoga mats. His photography is on display in galleries and shops throughout the region.
Malina Custom Leather (Cambridge, Maryland)
www.facebook.com/MalinaCustomLeather
Craftsman Dennis Napolitan hand cuts, stitches, and molds leather into stunning handbags, belts, saddlebags, and guitar straps in his workshop in Cambridge. Each piece is lovingly made with distinctive stitching, applique, and sculptural elements.
Monocacy Forge (Frederick, Maryland)
www.monocacyforge.com
Located near the banks of the Monocacy River, artist and blacksmith Stephen Dill crafts an eclectic mix of custom ironwork for homes, businesses, and public spaces. His hammer work is featured on a diverse array of items, from bottle openers to vases, while his larger designs include botanical-inspired sculpture and ornamental yard décor.
Mosaic Arts (Lanham, Maryland)
www.gourdlanterns.com/
Drawing on Turkish mosaic lamp traditions, Altan Erginkoc has added his own creative twist by using gourds as the light-giving vessel. Festivalgoers will delight in his exquisite and practical gourd lamps, as well as the pleasing shadows they cast.
Mudboy Guitar Works (Chincoteague Island, Virginia)
www.facebook.com/stanleyopiel
Edward Opiel handcrafts acoustic and electric cigar box guitars, each one a distinctively ornamented instrument. You'll be amazed at the sounds that can come from these unusual three- and four-string instruments—especially when they are plugged in.
Noah's Ark Folk Art (Salisbury, Maryland)
www.noahs-ark.com
Ted Nichols is a contemporary folk artist known for wood sculptures reminiscent of popular American art of the 18th and 19th centuries. Noah's Art Folk Art features an array of wood carvings of original designs inspired by nature, history, and biblical scenes. Popular pieces include personalized sculptures of pets, chess sets, and Noah's Ark tableaus.
The Painted Screen Society of Baltimore, Inc. (Catonsville, Maryland)
paintedscreens.org
Painting colorful scenes on woven-wire-mesh-window and door screens has been a tradition in Baltimore's rowhouse neighborhoods since 1913. These landscapes and contemporary images are functional as well as beautiful: from inside you can see out, but no one can see in. Screen painters and members of the Painted Screen Society, an educational organization whose aim is to preserve this art form, bring this enduring urban folk art tradition to Salisbury in the form of decorative window screens, banners, and a range of objects using woven wire as the canvas.
PaperLiberated (Silver Spring, Maryland)
www.facebook.com/Paper.Liberated
Maryland artist Ashley Chiang puts a unique twist on traditional quilling, an art form dating back to French and Italian clergy during the Renaissance. PaperLiberated features vibrant monograms in various colors and sizes, abstract works, flowers, and mandalas, all created entirely by hand.
Rachel Alvarez (Salisbury, Maryland)
rachelalvarezart.com
Rachel Alvarez paints vibrant watercolor art and illustrations that celebrate the simple joys of everyday living. Her specialties include a range of custom state landscape paintings, food illustrations, home and pet portraits, and unique wedding guestbook art and invitations.
Secrets of the Eastern Shore (Cambridge, Maryland)
www.secretsoftheeasternshore.com
Secrets of the Eastern Shore features the work of photographer and graphic designer Jill Jasuta, who explores and celebrates the Delmarva Peninsula in her work. Jasuta's photography finds unique and unexpected beauty in local landscapes and waterscapes.
Secrets of the Universe (Salisbury, MD)
The mother-and-son team of Joan and Michael Devaney create eco-friendly, nature-inspired jewelry that incorporates recycled material from around the world, repurposed into wearable art. Their jewelry features hand-blown borosilicate glass and fused dichroic glass, and utilizes distinctive objects such as porcupine quills, fossilized wooly mammoth ivory, and arrowheads.
Stinky Beach Studio (Berlin, Maryland)
www.raggamuffinboutique.com
Marc Emond, prolific illustrator and editorial cartoonist for Ocean City Today, pays homage to a local fishing spot known as "Stinky Beach"with a playful cast of salty seaside characters and merpeople. His witty designs are featured on paintings, drawings, cards, stickers, and more.
Twin Moons Pottery (Hagerstown, Maryland)
www.twinmoonspottery.com
Pamela Hall's handcrafted pottery features imagery of regional wildlife, local botanicals, and ocean scenes. She is also known for her hand sculpted, one-of-a-kind face jugs. All of her art is sculpted or wheel thrown from porcelain and stoneware clay, then high fired in the gas kiln at her studio.
Windmill Hill Studios (Bivalve, Maryland)
www.facebook.com/windmillhillstudio
Windmill Hill Studio is a family-based guild of jewelry artisans, raised on the banks of the Nanticoke River on the sixth-generation Rencher family farm. While Dorothy Ansell dazzles with her fine silver and reactive glass creations, John Gorney stuns with his stained glass and Venetian style, lampwork beads. Barbara Gorney fuses texture, form, and patina in her metal work, while JoAnne Hoeffner creates original pieces in textured silver and semiprecious stones.
Woven Sculptures and Baskets (Easton, Maryland)
www.heidiwetzel.com
Heidi Wetzel is an award-winning fiber artist and basketweaver who crafts beautifully constructed woven works, from wall-hangings to wrapped vases. Masterfully incorporated into her work are natural artifacts from the Eastern Shore, such as antlers, shells, seagrasses, and pinecones.