Performance Schedule and Map Unveiled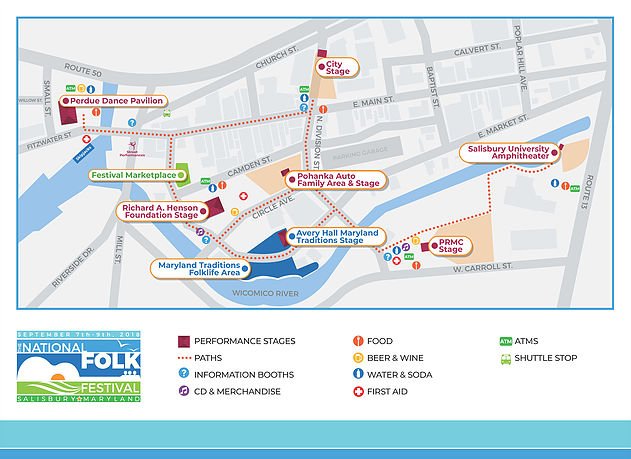 The National Folk Festival unveiled its complete schedule of performance times and stage locations for more than 350 performers, demonstrators, and artisans set to appear September 7 through 9 in Downtown Salisbury, Maryland.
From bluegrass, Irish and rockabilly — to reggae and mariachi, this year's complete Festival schedule of performances and activities is now available at https://www.nationalfolkfestival.com/schedule
"There is so much to see. With the schedule in hand, you can choose to stay at one location and watch performers take the stage all day long. Or you can jump from stage to stage and manage to see every artist in this year's lineup," says Caroline O'Hare, Local Manager for the National Folk Festival.
The three-day celebration begins on Friday evening, September 7 at 6pm on the City Stage, with a performance from one of New Orleans' most beloved artists, the Tremé Brass Band. The music is sure to get everyone on their feet as the Band moves from the stage and joins with the crowd for the Festival's traditional opening parade through downtown Salisbury. Everyone is invited to join in.
Friday's schedule runs until 10:30pm. Saturday's schedule begins at noon, and runs all day until 10:30pm. Sunday Festival hours are noon through 6:30pm.
Four of the Festival's stages will operate during all Festival hours as noted above:
The PRMC Stage, across from the Peninsula Regional Medical Center, on the corner of S. Division Street and E. Carroll Street.
The City Stage, in front of the Government Office Building, located near N. Division Street and Church Street.
The Perdue Dance Pavilion, situated at the corner of W. Main Street and Small Street.
The Richard A. Henson Stage, a large, covered venue close to Circle Avenue and W. Market Street.
Four additional themed stages / areas will operate on Saturday and Sunday:
The Pohanka Auto Family Stage at S. Division Street and Camden Street
The Salisbury University Amphitheater positioned along the Riverwalk, near S. Salisbury Blvd.
The Maryland Traditions Folklife Area on W. Market Street
The Avery Hall Maryland Traditions Stage next to the Wicomico Downtown Public Library
"The detailed planning and hard work by our community over the past year is about to pay off with this incredible festival." Says O'Hare. "There is so much to choose from, so many artists to explore and experience. It is a joyous celebration free to all who wish to partake. However, while the festival is free to attend, it is not inexpensive. We hope everyone has a great time, but also hope everyone can chip in a few dollars too."
As in past years, festival organizers will again solicit contributions on site for the weekend through a traditional bucket brigade effort throughout all three days. A suggested contribution of $10 is suggested to help keep the Festival free.
For more information on the 2018 National Folk Festival please visit www.nationalfolkfestival.com