Next Five Performers Revealed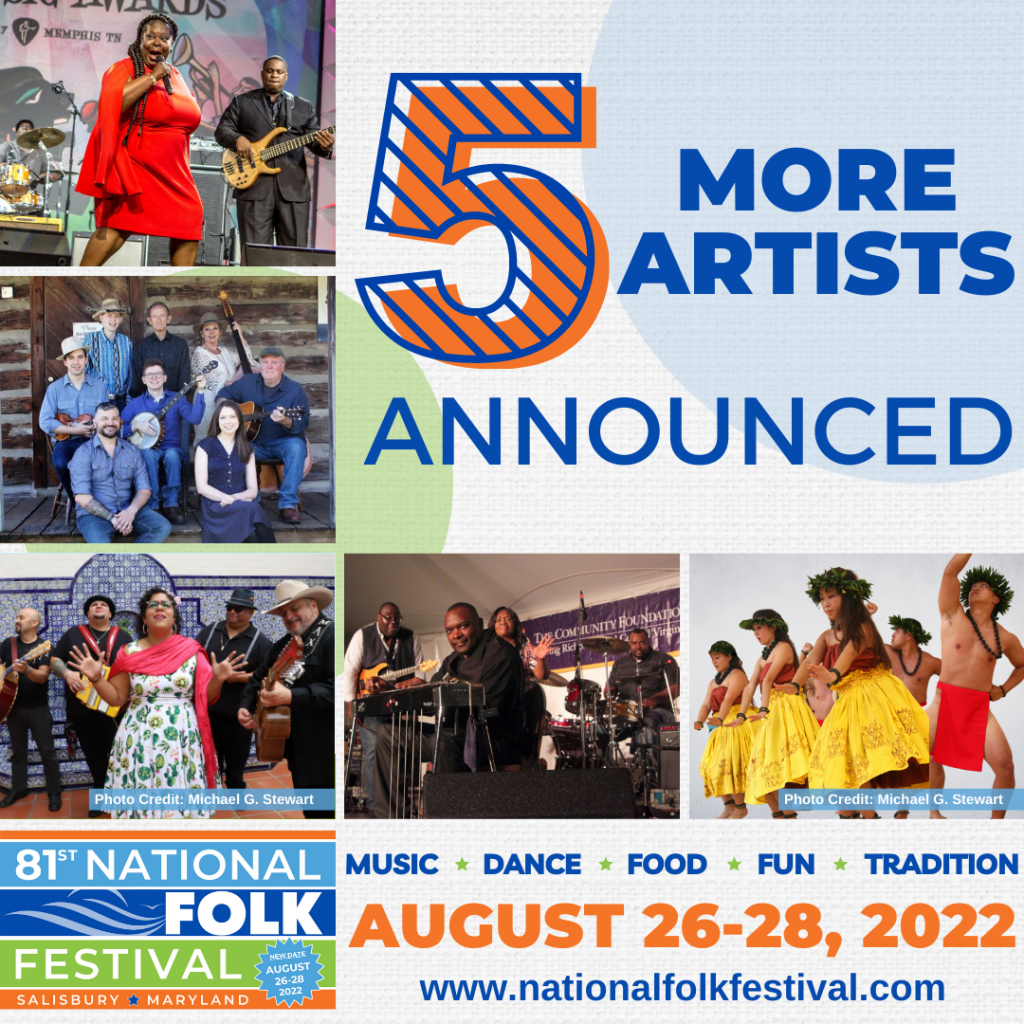 The National Folk Festival has announced the next five artists who will perform live and for free in Downtown Salisbury, August 26-28, 2022. The festival strives to present the nation's very finest traditional artists. Music and dance traditions from every part of the country are represented. The five artists announced today include:
Diunna Greenleaf & Blue Mercy (Houston, Texas) – blues
Emerging from the Houston blues scene like a force of nature, this Texas powerhouse has a commanding stage presence and a voice to match.
Hālau 'O Lilinoe (Carson, California) – traditional Hawai'ian hula
With graceful and mesmerizing performances, this halau (school) celebrates hula and nourishes the roots of their culture, preserving it for generations to come.
Los Texmaniacs feat. La Marisoul (San Antonio, Texas, and Los Angeles, California) – conjunto tejano
One of the most dynamic bands in conjunto tejano joins forces with a soulful, East L.A. singer, breathing fresh energy into timeless songs and sharing the rich legacy of Mexican American music—with a twist.
The Campbell Brothers (Rochester, New York) – sacred steel guitar
From electrifying, raise-the-roof solos, to meditative sounds of beauty and reflection, this family-based band is among the finest ambassadors of the sacred steel tradition.
Thomas Maupin & Friends with Daniel Rothwell & Overall Creek (Smyrna and Murfreesboro, Tennessee) – Appalachian buck dance and old-time music
This 83-year-old Tennessee buck dancer is the most renowned of his generation, with a distinctive style that dancers and musicians alike emulate—including the apprentices and family members joining him on stage.
Over a dozen people of different backgrounds, and with a deep knowledge of music and art forms, came together from across Delmarva to serve as the local Musical Programming Advisory Committee. This committee's role is to consider—and help the NCTA select—the artists who will perform at the National Folk Festival each year. To learn more about these artists and their stories, please visit https://nationalfolkfestival.com/performers/.
The National Folk Festival will feature individual artists on Facebook (facebook.com/NFFMaryland), Twitter (twitter.com/NFFMaryland), and Instagram (instagram.com/nffmaryland) throughout the next month.
More performers will be announced as they are confirmed.