More Performers Announced for 81st National Folk Festival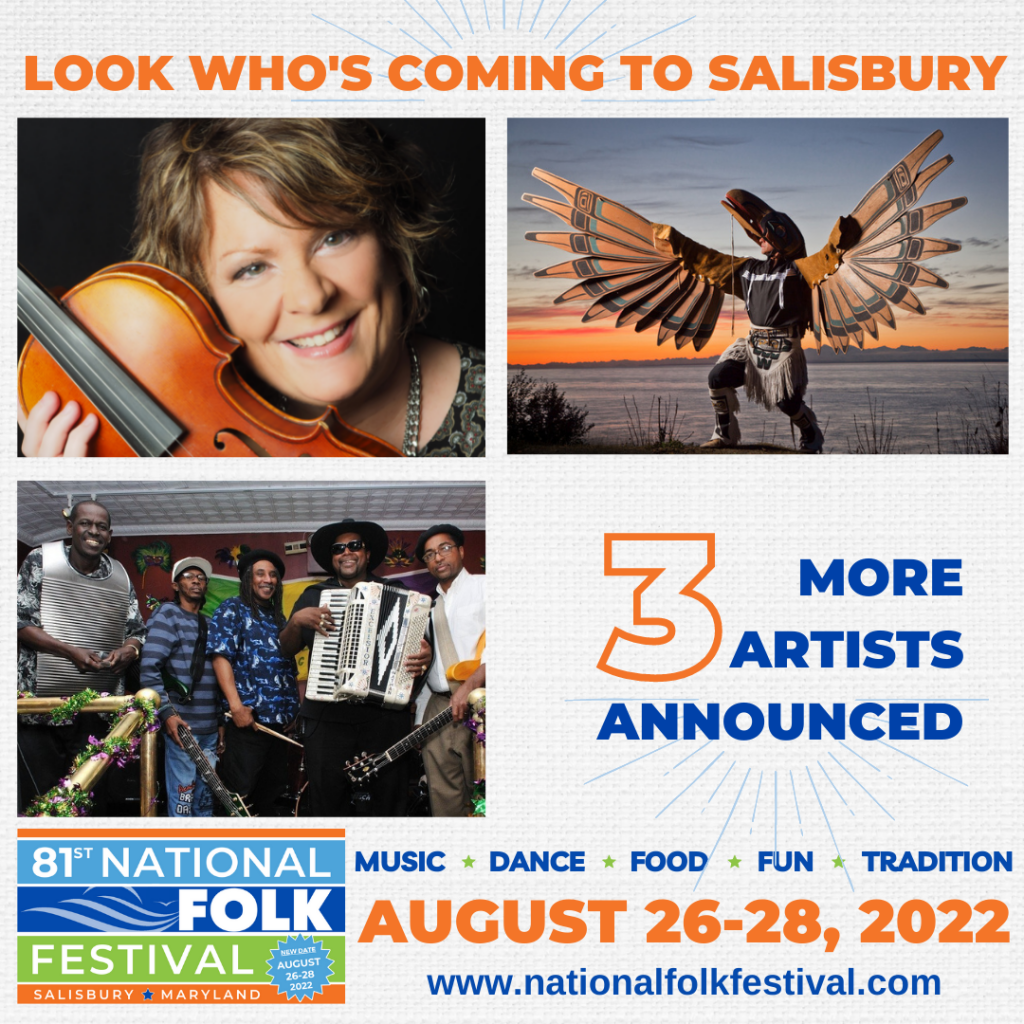 The 81st National Folk Festival is excited to reveal several more performers who will be sure to enchant and delight attendees in Downtown Salisbury, MD, this August 26-28, 2022. This year's festival will mark the final year of the event's residency. In 2023, the festival will transition to the Maryland Folk Festival in Salisbury.
Approximately 350 artists—musicians, dancers, storytellers, and craftspeople—will take part in the National Folk Festival, with more than 25 different musical groups performing on four outdoor stages throughout Downtown Salisbury.
The artists announced today include:
Eileen Ivers (Bronx, New York) – Irish
Raised in the Irish American community in the Bronx, this musical pioneer and innovator has won over 30 All-Ireland medals and redefined the boundaries of Irish traditional fiddling.
Gene Tagaban (Guuy Yaau) (Ruston, Washington) – Tlingit storyteller, musician, and dancer
Dancing in a stunning, hand-painted mask and feathered wings, this renowned storyteller and Raven Dancer brings audiences into active participation with timeless Indigenous teachings.
Nathan & the Zydeco Cha Chas (Lafayette, Louisiana) – zydeco
Led by arguably zydeco accordion's foremost living practitioner, this rollicking group represents the crème de la crème of the vibrant Black Creole dance music native to Southwest Louisiana.
Free to the public, the National Folk Festival strives to present the nation's very finest traditional artists. Music and dance traditions from every part of the country are represented—authentic blues, rockabilly, gospel, jazz, polka, tamburitza, cowboy, bluegrass, klezmer, R&B, old-time, Cajun, rhythm and blues, mariachi, beatbox, breakin', western swing, honky-tonk, and zydeco, as well as traditional music and dance from Native American, Celtic, Acadian, Middle Eastern, Caribbean, East Asian, Appalachian, Latino, Eastern European, West African, and Pacific Island cultures, among others.
To learn more about these artists and their stories, please visit https://nationalfolkfestival.com/performers/.
The National Folk Festival will feature individual artists on Facebook (facebook.com/NFFMaryland), Twitter (twitter.com/NFFMaryland), and Instagram (Instagram.com/nffmaryland) throughout the next month.
Performer photos, bios, and audio clips may be downloaded here:
https://bit.ly/81NFF-artists-051722
Photo credits should be listed and can be found in image file names.
Details about performers and demonstrators for the Maryland Traditions Folklife Area & Stage as well as the return of the festival's Family Area will be announced later this summer.