Maryland Folk Festival canceled for Saturday, to resume Sunday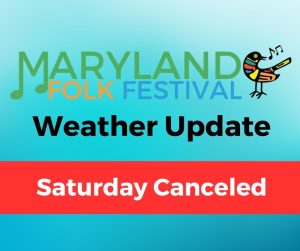 In the interest of safety, we regret to inform you that the entire Maryland Folk Festival schedule for Saturday, Sept. 23, has been canceled due to the worsening inclement weather conditions, specifically heavy rain, thunderstorms and strong winds. The safety and well-being of all attendees, performers, and staff are our utmost priority. The current plan is for Sunday's schedule to proceed as normal.Maryland Folk Festival:

  We are actively monitoring the situation and are committed to resuming the festival as soon as weather conditions allow. Your dedication to our community is greatly appreciated, and we want to ensure that everyone can enjoy this wonderful festival safely. To stay updated on any developments, please visit our official social media pages on Facebook and Instagram, where we will be providing real-time updates and information.

City of Salisbury:

Thank you for your understanding, flexibility and commitment to our city. Let's come together to ensure a safe and enjoyable Maryland Folk Festival once the weather permits.