Family Area Activities & Street Performers are back!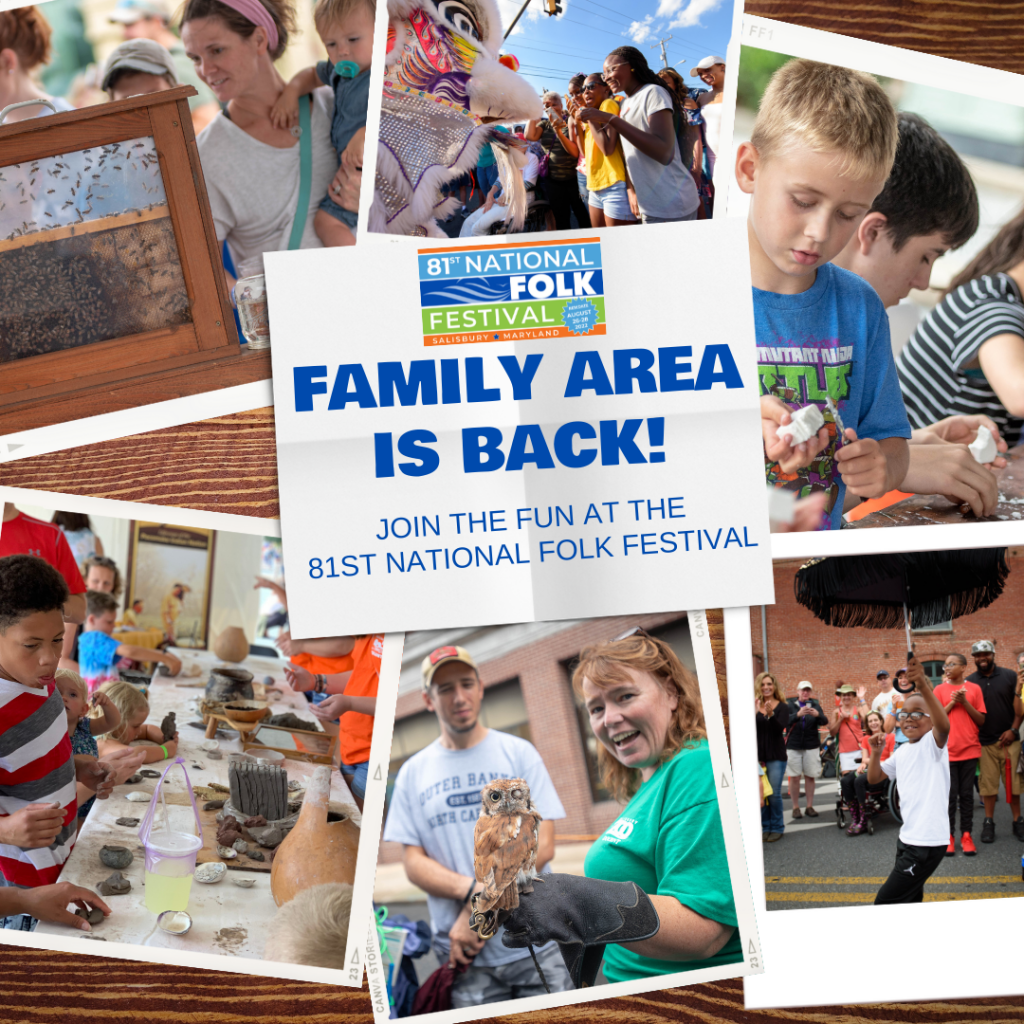 Family fun returns this year to the 81st National Folk Festival, August 26-28, 2022, in Downtown Salisbury, MD. This special interactive area features hands-on crafts, quiet games and active games, and other creative learning activities for young audiences and their families. The Family Area will also feature a variety of street performances sure to delight festivalgoers of all ages. This year's National Folk Festival will mark the final year of the event's residency. In 2023, the festival will transition to the Maryland Folk Festival in Salisbury. 
The Family Area will be open on Saturday, August 27 and Sunday, August 28 between noon and 5:00pm. The National Folk Festival, including all Family Area activities, is free to the public.
FAMILY AREA ACTIVITIES: 
Meet the animal ambassadors from the Salisbury Zoo. Staff from the Salisbury Zoo will be roving through the crowds with ambassador animals and educating festival guests about various animals' characteristics, where they can be found in nature, and cool facts on zoo ambassadors and their counterparts in the wild.
Festivalgoers will get the chance to create their own paper plate tambourine with the University of Maryland (UMD) Extension. Once it is done, they will have their own musical instrument to play while enjoying the festival.
Also from the UMD Extension, join the Lower Shore Master Gardeners to learn all about bees and other pollinators. See the bees in action in a self-contained hive. Make butterflies with colorful wings out of coffee filters. Explore the pollinator garden with flowers for all the pollinators, plus the plants caterpillars eat.

 
With the fall migration about to start, decorate an eco-friendly bird feeder with the Ward Museum of Wildfowl Art at Salisbury University. Help birds on their way south by supplying food for their trip.
Step inside the Wicomico County Libraries' new Mobile Learning Lab for some kid-friendly karaoke and to learn about the libraries' partnerships and outreach programs! Plus, the Paul S. Sarbanes Branch, located downtown, will be holding their annual book sale right around the corner.

 
FAMILY AREA STREET PERFORMERS:
Lurking Class Skate Shop (Salisbury, Maryland) – skateboarding
A diverse crew of skaters from Salisbury's downtown skate shop will demonstrate skateboarding's improvisational spirit as well as classic tricks on a pop-up obstacle course.
Robert Clarke (Boston, Massachusetts) – juggling and magic
Specializing in juggling and magic, this well-traveled street performer has the uncanny ability to captivate both young and old with his fun-filled, laugh-out-loud interactive family show.
In addition, other street performances will feature several previously announced artists. Schedule details and street performance times will be announced later this summer. 
Special thanks to our Family Area partners: Salisbury Zoo, Ward Museum of Wildfowl Art at Salisbury University, University of Maryland Extension, UMD Extension – Lower Shore Master Gardeners, and Wicomico Public Libraries.
For more information about the Family Area visit: