Be Part of the 2023 Maryland Folk Festival Marketplace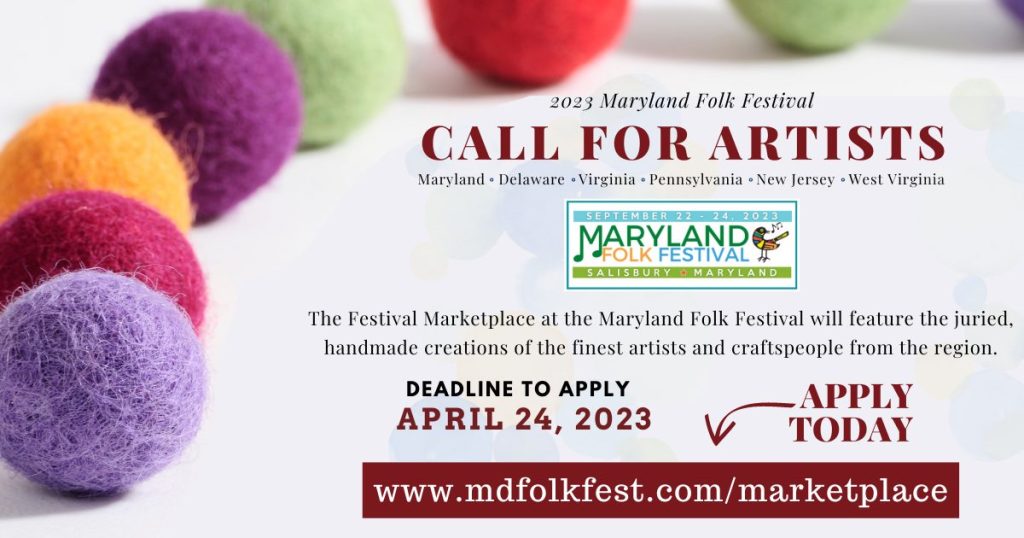 Are you an artist or craftsperson looking to showcase your work? Then look no further than the Maryland Folk Festival Marketplace! The Festival Marketplace will offer festivalgoers the opportunity to purchase the juried, handmade creations of artists and craftspeople from the State of Maryland and surrounding region. Whether your style is deeply traditional or a more contemporary artistic expression, this is a great opportunity for you to have your work seen by thousands of people.
The 2023 Maryland Folk Festival in Downtown Salisbury, brought to you by our Presenting Sponsor Perdue Farms, will take place September 22-24, 2023. This event brings together hundreds of the nation's finest musicians, dancers, tradition bearers and artisans. Best of all, it is FREE to attend!
How to Apply for the Festival Marketplace
All interested artisans must fill out an online application before April 24, 2023. This application includes such information as details about your artwork, photos/images of your work, and other related information. The fee to apply is $35.00. If selected, the basic booth fee is $300.00. You can also view the full application guidelines and requirements on the Maryland Folk Festival website at https://mdfolkfest.com/marketplace/
Direct links:
Marketplace Artisan Guidelines
Marketplace Artisan Application