Another Six Artists Announced for 80th National Folk Festival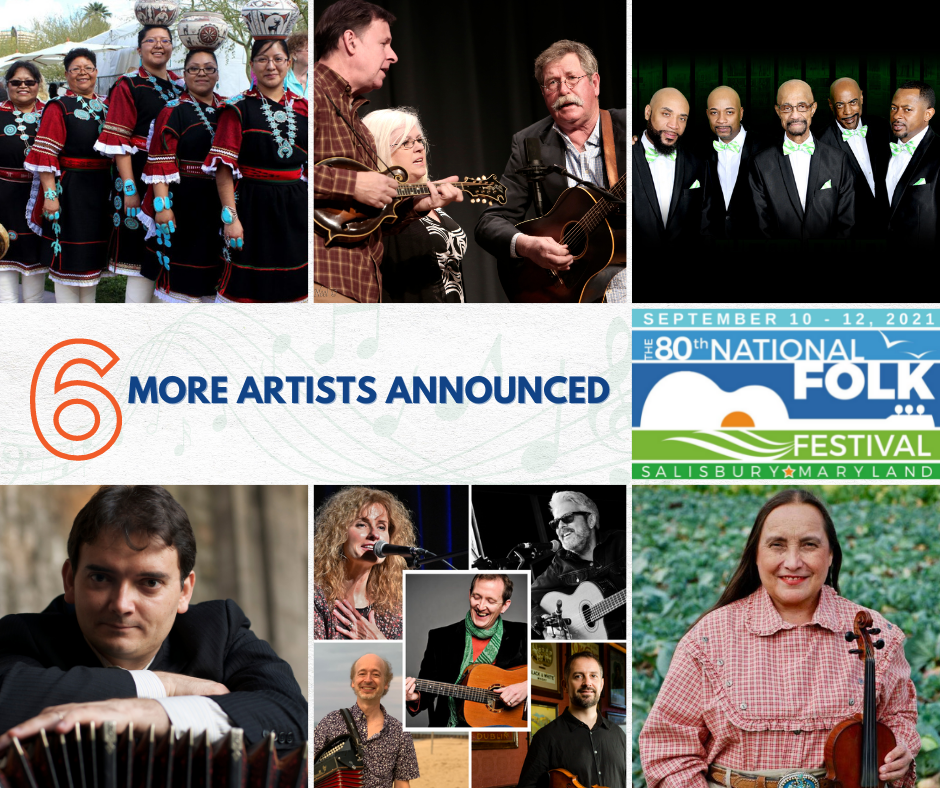 Today festival organizers announced another six performers who will be featured at the 80th National Folk Festival. The festival returns to Salisbury September 10-12, 2021, with performances, special family and Maryland folklife programming, diverse food and beverage offerings, and more—all presented free to the public on outdoor stages located in the heart of the city's recently revitalized downtown. This year's event will mark the celebration of the 80th National Folk Festival as well as the third year of the National's residency in Salisbury.
"In announcing these artists, we have added rich layers to the story we will tell at this year's festival about the wellsprings of tradition and creativity found in the country's many cultural communities," said Lora Bottinelli, executive director of the National Council for the Traditional Arts. "Whether a historic, pioneering gospel ensemble, an exquisite ambassador for Argentina's national dance, or an ensemble that offers a snapshot of the remarkable talent and friendship that thrives in Irish American music, there will be plenty to celebrate when we are 'together again' in September."
The National Folk Festival strives to present the nation's very finest traditional artists. Music and dance traditions from every part of the country are represented—blues, rockabilly, gospel, jazz, polka, tamburitza, cowboy, bluegrass, klezmer, R&B, old-time, Cajun, rhythm and blues, mariachi, beatbox, breakin', western swing, honky-tonk, and zydeco, as well as traditional music and dance from Native American, Celtic, Acadian, Middle Eastern, Caribbean, Asian, Appalachian, Latino, Eastern European, African, and Pacific Island cultures, among others. The six artists announced today include:
Héctor Del Curto's Tango Quartet (New York, New York) – Argentine tango
The elegant, subtle, and intensely passionate Argentine music and dance called tango could find no higher expression than the superb artistry of this bandoneónist and his ensemble.
Panfilo's Güera (San Antonio, Texas) – Tejano conjunto fiddle
Single handedly keeping alive the conjunto fiddle tradition is the foremost practitioner of this art form that expresses the deep roots of Tejano culture on the Texas-Mexico border.
Spencer Taylor & the Highway QC's (Washington, D.C.) – gospel
Audiences will feel their spirits lifted by this gospel mainstay with over 70 years of ministering in song, known for their tight vocal harmonies and hard-driving rhythm section.
Springfield Exit (Winchester, Virginia) – bluegrass and traditional country
This exceptional ensemble of award-winning musicians, led by a powerhouse vocalist, combines bluegrass and country with sounds stemming from their Appalachian roots.
The Irish American All-Stars (Chicago; Detroit; Boston; Bristol, Vermont; and Asheville, North Carolina) – Irish
Though accurate to call this collection of artists a supergroup of Irish American music, it would be just as truthful to describe them as five longtime friends thrilled to perform together again.
Zuni Olla Maidens (Zuni, New Mexico) – Zuni dance and song
These dancers transform their foremothers' essential, life-giving work of carrying water—in vessels called olla balanced on their heads—into a reverent dance tradition.
The National Folk Festival will feature individual artists on Facebook (facebook.com/NFFMaryland), Twitter (twitter.com/NFFMaryland), and Instagram (Instagram.com/nffmaryland) throughout the summer.
More performers will be announced as they are confirmed.