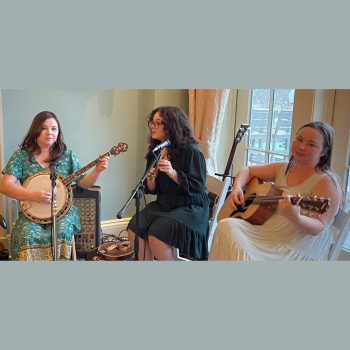 Lydia and Emily Martin
old time and Irish traditional music
Boyds, Maryland
Photo Credit:
Madelyn Summers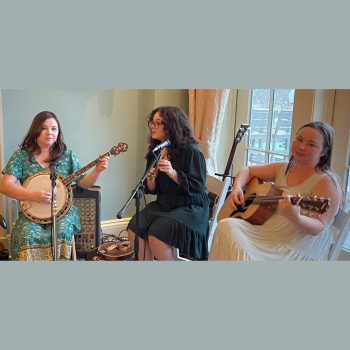 The Martin sisters of Boyds, MD, Lydia (banjo, guitar, piano) and Emily (mandolin, tenor banjo) bring a variety of traditional Irish and old time repertoire to the stage. They have performed across the Atlantic and the United States, also teaching workshops and playing for dances. Emily's daughter, Elora Paul-Martin (flute, guitar), is a third-generation member of the Martin Family Band. Join them for lively traditional dance tunes, harmony singing and more!
They grew in Maryland, learning from Maryland players. Their parents, Carl and Jeanean, also played music and introduced their children, Lydia, Emily and Claude, to an astonishing range of friends in the traditional music community. As the children grew older, they also found mentors from New York, Ireland, West Virginia, and Kentucky, at gatherings such as Common Ground on the Hill, and by traveling to those places. The family started performing as the Martin Family Band and, aided by a grant from the Maryland States Arts Council, recorded their first album, "Nanny's Music."
Following a performance at Deer Creek Fiddler's convention Old Time Band competition, the three siblings received a record deal from Patuxent Records to create the sibling album, "Ten Thousand Miles," which was musically produced by Alan Jabbour and engineered by Tom Mindte. The album was well received, and Alan Jabbour wrote in the liner notes:
"Lydia, Emily and Claude Martin grew up playing music together in a family band in Maryland. Nowadays they also play solo or with other groups, but whenever they come together again, the old magic resurfaces—a tight, instinctive, totally integrated sound born of years of making music together. Their repertory comes from many sources—mostly from family roots in the Virginia Blue Ridge and from musical mentors in their own home state of Maryland. But though the songs and tunes are wonderfully varied—from old ballads and venerable fiddle tunes to ragtime pieces and new songs—they all bear the distinctive artistic stamp of the family band that made this music their own." – A. Jabbour
Emily went on to win first place at the Mid Atlantic Fleadh on Irish tenor banjo and mandolin. Lydia spent years researching banjo styles, teaching and working on songwriting, and won an award for banjo at Seedtime on the Cumberland. Her solo album, "Chasing the Ghost," was produced by Dirk Powell and released in 2013, hitting the top five on the National Folk DJ chart in 2017.
A memorial album, "Claude Martin Fiddle," honors the legacy of Claude Martin's fiddle playing. In 2019, Emily was awarded a Maryland Folklife apprenticeship to study with master Irish fiddler, Brendan Mulvihill. In 2023 Lydia received The Maryland State Arts Council Folklife Apprenticeship as a master banjo teacher.