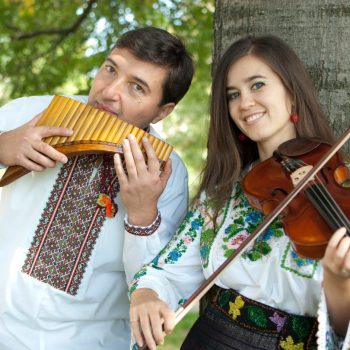 Gerdan
World Music/Ukrainian Traditional
Silver Spring, Maryland & Fairfax, Virginia
Photo Credit:
photo courtesy of artist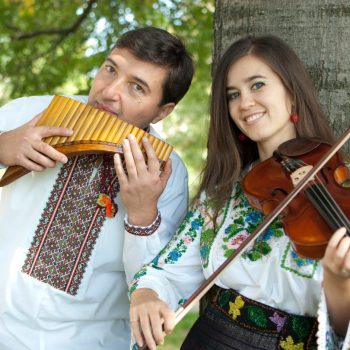 Gerdan is a professional music ensemble based in the Washington D.C. Metropolitan area. Founded by Ukrainian duo Solomia Gorokhivska and Andrei Pidkivka, musicians of Gerdan bring the fire and the edge of melodic ideas and rhythms that capture the listener.
The ensemble is named after Gerdan, a multi-colored, intricately woven beaded necklace from the Carpathian Mountains in Ukraine. Like this dazzling and exquisite necklace of different colors and shapes, musicians create original arrangements of traditional Ukrainian folk melodies and rhythms that reflect their passion for blending the old with the new, in a style that is fresh, lively, and beautiful. The exclusive collection of authentic Ukrainian flutes in combination with other traditional and modern instruments create an unforgettable musical experience. Gerdan's musicians have been acknowledged for their technique and exquisite musical presentations performing an exciting Eastern European music repertoire. They reveal their passion for traditional music in their artistic expression to build cultural bridges in time and distance.
Gerdan's recent performances include collaboration with National Symphony Orchestra at The Anthem , Kennedy Center, D.C. Mayor Arts Awards at Capital Turnaround, Fairfax Town Hall Concert Series in VA, Montgomery College and McDaniel College in MD, Slippery Rock University and Johnstown Slavic Festival in PA, Miami History Museum and Broward Center for the Arts in Fl, National Folk Festival, Hill Center in D.C., Strathmore Theater, Avalon Theater and Sandy Spring Museum in MD, IMF and World Bank in D.C., Embassy of Ukraine, Embassy of Bulgaria, Embassy of Slovakia, Embassy of Austria.
Gerdan's program offers a sampling of Ukrainian traditional music including Gerdan's original arrangements of the songs and instrumental music from different regions of Ukraine. Through their music Gerdan's musicians tell the story of freedom loving Ukrainian people.