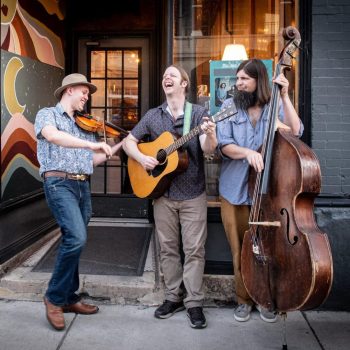 Folk 'Em All
bluegrass / American roots
Frostburg, Maryland
Photo Credit:
photo courtesy of artist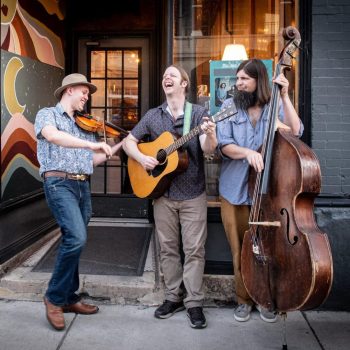 Folk 'Em All Trio is a fun, exciting and energetic string trio that covers a vast array of classic American roots music. From bluegrass to western swing, Jimmy Cliff to BB King, and original tunes by all three members, Folk 'Em All Trio will folk with them all. These boys also occasionally double as longtime Jerry Garcia/David Grisman collaborator, Joe Craven's back up band, performing together as Joe Craven and the Y'allterations at legendary bluegrass and roots festivals Delfest and Suwannee Roots Revival.
Guitarist, lead vocalist and multi-instrumentalist Jody Mosser of Frostburg Maryland owns the gambit of guitar picking styles. He's toured across the country with top regional bands such as The Plate Scrapers, The Jakob's Ferry Stragglers and Grand Ole' Ditch. Jody has studied with 3-time National Flatpicking Champion Steve Kaufman, dobro ace Andy Hall and has shared the stage with the likes of Larry Keel, The Travelin' McCourys, Cabinet, Cris Jacobs and Jeff Austin. He is now demonstrating his full song writing and instrumental capabilities with his new album "Hands Full".
Also hailing for Frostburg Maryland on the bass is singer/songwriter, Byrne Klay. Byrne's eclectic career has spanned almost three decades, performing various styles on various instruments. He has toured Asia, Europe, Australia, and the US with avant-garde punk acts Dynamite Club and Project Bazooka as well as theatrical surf band ThisSpySurfs. He is also the guitarist and banjo player for Megan Jean's Secret Family which he co-leads with his wife Megan Jean, which whom he also tours and records with.
Fiddler, mandolinist, and singer Fiddlin' Ray Bruckman is from Stahlstown, PA. Since starting at age 11 in 2005 Ray has played with 18 different regional bands including Brush Creek, Grand Ole' Ditch and the Jakob's Ferry Stragglers he has been a Pennsylvania state fiddle, mandolin and guitar champion and has studied with fiddle greats such as Don Shean, Darol Anger, Buddy Spicher, Bobby Hicks, Byron Berline, Kenny Baker, Bruce Molsky, Brittany Haas and many more. He has fiddled everywhere from Key West to Seattle and has his own Solo record, "Foundations".