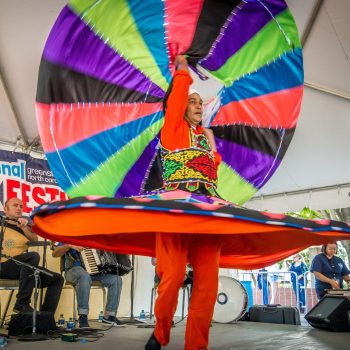 Yasser Darwish and Egyptian Celebration
Egyptian folklore, music, & dance
New York, New York & Alexandria, Egypt
Photo Credit:
Remsberg, Inc.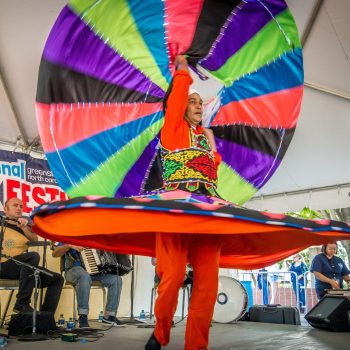 Yasser Darwish was born in Alexandria, Egypt on the coast of the Mediterranean. He learned dance as a child from his uncle who led a semi-professional dance group that performed at weddings and local community events. When he was 18, he studied with the Alexandria Folk Dance Group, the State dance company that offered a training program for promising young dancers. After only one year, he was invited to join the professional performing company with whom he toured internationally. Yasser has also seen on PBS and has performed at large scale national celebrations for prominent celebrities including the president of Egypt, Hosni Mubarak.
Among the dances he has performed include the debke shepherd's dance of the Levantine region. He has also learned dances from the Middle Egypt area, including the Saidi Tahtib cane dance; the Arabian Horse Dance-which mimics the movements of Arabian stallions; Nubian dances and finally the dances of the nomadic Bedhouin people found in the dessert region to the West of Egypt.
Yasser worked with the company for ten years before joining the National Folkloric Dance Company of Egypt. He participated on national tours with this group for almost two years. During this time he also became a master of Tanoura or the Whirling Dervish dance: a style inspired by a meditation associated with the mystical religious order Sufism – originating from present day Syria and Turkey. A distinct Egyptian variant developed that Yasser performs and from which he derives his name – Darwish.
In 2001, Yasser moved to New York. He currently lives in Bay Ridge, Brooklyn with his wife. He can be seen performing and directing dance and musical presentations for public and private cultural events.
Yasser will be joined on stage by Ahmed Salah Elden from Alexandria, Egypt.
Ahmed Salah Elden is a graduate of Alexandria University, Faculty of Specific Education, majoring in music, piano and the qanun (an Arabic stringed instrument). He has taught music since 1996, including 19 years in the United Arab Emirates.
Ahmed has been a qanun player in the Dubai Orchestra and in more than one private band in Egypt and the Emirates. He has also directed the Al Mamzar Festival in Dubai, which was comprised of 26 participating countries in celebration of the National Day of the United Arab Emirates for more than 18 years. Ahmed currently resides is Alexandria, Egypt.