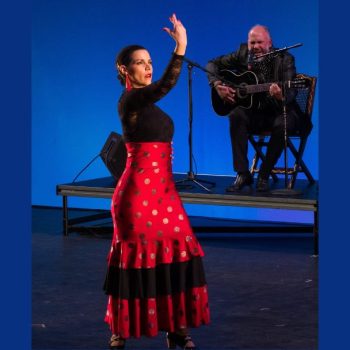 Furia Flamenca Dance Company
flamenco
Washington, D.C. metro area
Photo Credit:
photo courtesy of artist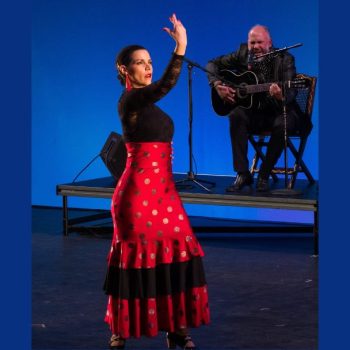 Furia Flamenca Dance company is the most sought-after flamenco dance company in the Washington DC Metro area. It is an award-winning dance company, brings the ferocity and passion of flamenco to the stage and transports audiences to Southern Spain in technically refined, emotionally explosive and dynamically choreographed dancing. Its unique style combines the traditional gypsy with the more modern flamenco to create a perfect balance.
Since its founding in 2004, the company has performed in some of the most prestigious venues throughout the DC Metro area including the Kennedy Center's Millennium Stage and Terrace Theater, Lincoln Theatre, National Theatre, Wolf Trap, Baltimore Lyric Opera House, Publick Playhouse, Dance Place and Alden Theatre, to name a few. The company is regularly invited to perform at some of the biggest Metro DC festivals, such as the Washington Folk Festival, INTERSECTIONS: A New America Arts Festival, Cherry Blossom Festival, Dance DC Festival, Velocity DC, Taste of Bethesda, National Dance Day and the annual Washington, DC's Feria de Sevilla.
The company's choreographies have been selected to participate in the areas most prestigious choreographer's showcases including Dance Bethesda, World Dance Showcase, ARTSCAPE and Dance Place's New Releases Choreographer's Showcase. The company has also been a recurring artist at Happenings at Harmon Hall since 2010.Their performances and productions have been recognized as some of the best in the DC Metro area with two Metro DC Dance awards in 2009 and five finalist nominations in 2012.
Estela Vélez de Paredez, Artistic Director
Estela Vélez de Paredez was born and raised in San Juan, Puerto Rico. She trained intensively with Maestro Antonio Santaella of Granada, Spain to whom she owes her development as a flamenco artist, and with other renowned flamenco masters such as Carmen La Talegona, David Coria, La Farruca, Rocio Molina, Mercedes Amaya, Joaquín Grilo, Pastora Galván, Israel Galván, Belén Fernández, Alejandro Granados, Adrian Santana, and Miguel Vargas, to name a few. Her dance training also includes ballet, jazz, tap, and belly dance. As a performer, she is one of the most recognized names in flamenco in the Washington, DC Metro area. Critics have recognized her for her style and strong delivery describing her as "a stunning performer with a gaze that enraptured" and noting "she delivered a strong, graceful performance." She has performed at many venues throughout the area, including the Kennedy Center's Millennium Stage at the Kennedy Center and Terrace Theater, the Lincoln Theatre, Harmon Hall, National Theatre, Atlas Performing Arts Center, Wolf Trap, Jack Guidone Theater, Corcoran Gallery of Art, Dance Place, Publick Playhouse, Roundhouse Theater, and Alden Theatre, and many more. Most recently, in December 2021, she was invited to perform at the 44th Annual Kennedy Center Honors as a principal dancer in the Carmen tribute to Honoree Justino Diaz. Overseas, she was invited in 2001 to perform with Ballet Flamenco Antonio Santaella in the production of Julia en Flamenco at El Centro de Bellas Artes in San Juan, Puerto Rico. In August 2011, she was a principal dancer in the production Ida y Vuelta: De Donde Vienes Mestizo at the Teatro Nacional Rubén Darío in Managua, Nicaragua. She has also performed at tablaos locally and in Puerto Rico. In 2003, she founded Furia Flamenca Dance Company. Her productions include the five-finalist nomination and 2009 two-time Metro DC Dance Award winning production Lorca: Flamenco Poetry; Soul Encounters: Flamenco Meets Jazz; Recordando La Alhambra; Flamenco to the MAX!; Amalgamas; Flamenco, Passion and Soul, Flamenco y Más; and, Ritmos Españoles. Her choreographies are recognized as some of the best in the area having been selected for some of the area's most prestigious choreographer's showcases including Dance Bethesda, World Dance Showcase, VelocityDC, ARTSCAPE and Dance Place's New Releases Choreographer's Showcase. She is a recurring guest choreographer with Teatro Lirico DC where she has choreographed and performed in various zarzuelas including La Verbena de la Paloma (2014), La Rosa del Azafrán (2015), La Tempranica (2016), La Boda y Baile de Luis Alonzo (2018), and Chateau Margaux & Zarzuela Anthology (2019). Currently, she is faculty at Séber Method Academy and teaches in Fairfax, VA. She was faculty at the Joy of Motion Dance Center for 19 years. She has taught at Summer Intensive programs including for the Metropolitan School of the Arts, Kirov Academy of Ballet in Washington, DC and BalletNova. She regularly teaches master classes throughout the DC Metro area and regularly offers lectures on the history and background on the art of flamencoShe served as Chair of the Board of Directors of Dance Metro DC (2014-2017) and is a Founding Board Member of TorcuArt, a non-profit organization established in 2020 with a focus on the preservation and promotion of Flamenco and Spanish guitar and associated disciplines and the dissemination of the legacy of Maestro Torcuato Zamora.
Juan Luis Romero, Flamenco guitar
Juan is from Puerto Rican and Dominican decent, he comes from a family dedicated to music, poetry, journalism, law and education. He studied piano and music composition at a very young age when he dreamed of producing music interchanges between rhythms from the Antilles and Latin America. At age 13, he founded and led his first orchestra and afterwards a jazz ensemble, but not without being first a singer for a heavy metal band, tenor of a gospel choir, chorister for the salsa legends Richie Ray & Bobby Cruz and pianist for several tropical music bands. Therefore, the musical crossbreeding is not foreign to him. Romero, who is also a lawyer, was also a flamenco dancer for many years and performed in diverse productions in some of the most important venues in Puerto Rico with the dance company, Mosaico Almudejar, led by the recognized choreographer and flamenco dancer, Antonio Santaella, his mentor and teacher. He has also studied in Spain and Puerto Rico with such recognized flamenco figures as Alfonso Losa, Costi el Chato and El Farru, amongst others. He took flamenco guitar and cante (singing) lessons with Antonio "El Pichuli" Carmona and in Granada with Rafael Fajardo. Following his parents' passing, he embarked on a journey to make his artistic dreams, at which time he founded FUSION JONDA in 2010, a musical ensemble which blends Caribbean rhythms with flamenco melodies, a bit of jazz, hip-hop and Middle East music. The group has become a "Class A" event having been featured in many shows on local television, radio stations and press media articles, as well as the most important theaters and arenas in Puerto Rico.