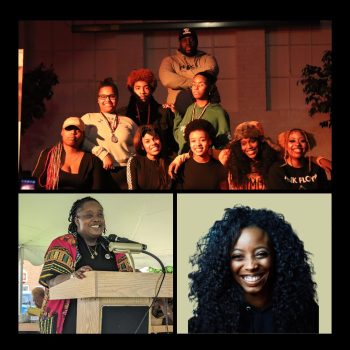 DewMore Baltimore, Sista Big and Amber Green
spoken word
Baltimore, Pocomoke City and Salisbury, Maryland
Photo Credit:
Victor Rodgers (DewMore Baltimore) & other photos courtesy of artists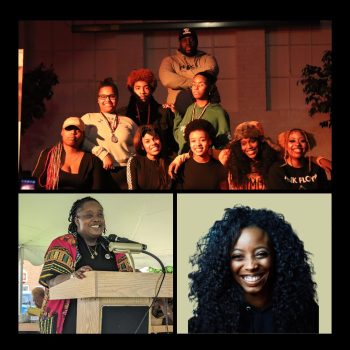 The DewMore Baltimore Youth Poetry Team aka BCYPT (Baltimore City Youth Poetry Team) is a national award winning youth program that engages youth between the ages of 13-19 who live in or around Baltimore City who are passionate about writing, performing and advocating for change in their community. The team is led by published authors and award winning professional writers. The team is developed from the national best practices of Positive Youth Development and is dedicated to using poetry to develop youth's emotional, cognitive, and social skills. The team is selected from a youth poetry slam held each year. The slam is open for application for all youth poets that are interested. The top 6 poets from this slam create the Baltimore Youth Poetry Team. The team meets weekly upon being selected with the head coach Slangston Hughes. Every year, the program sends a group of talented youth poets to the largest international youth poetry slam festival, Brave New Voices. Which they were the champions of in both 2016 & 2018
Sharnell "Sista Big" Tull is a poet and visual artist raised in Pocomoke City, Md. She began writing poetry as a child and cultivated her talents through competitive speaking. Ever since she was a young girl, Sharnell knew that she was destined to write and speak poetry to and for the masses. She has the innate ability to pen about any given topic, reciting each line as if most times were her own personal story. Sista Big has published two books: Live Again: the rebirth (2016) and When April Doesn't Bloom (2019). Her chapbook When April Doesn't Bloom featuring Donnie's Songs was published in 2018. Her first book was a variety of poems which focused on religion and real-life issues while her second served as an inspiration to overcome struggles one may face in life. Sista Big delivers her in a way that you would have to experience for yourself. With her rhythmic flow and powerful words, Sista Big is sure to captivate you.
Amber Green is a driven and enthusiastic individual with a passion for the arts, advocacy and empowering today's youth. With a background in radio media, nonprofit leadership and community organizing, Amber has honed her skills in empowering young people and the community they live in to use creative arts as a means of social change. Amber is known for her skill to bring attention to those marginalized, as well as her creative problem-solving abilities, and strong dedication to providing safe spaces for youth in her community.
Throughout Amber's journey, she founded of Fenix Youth Project Inc., a 501(c)3 nonprofit that empowers youth to use their creative talents to impact social change, while providing them with the resources needed to live full lives. Understanding that housing is a right, and the voices of today's homeless youth remain muffled, the vision for Fenix is amplify the voices of those most marginalized. Whether it's tackling complex challenges or collaborating with diverse teams, Amber thrives in dynamic environments and consistently brings a positive and can-do attitude to every task.
Outside of work, Amber enjoys writing poetry and performing spoken word at local open mics. Her collection of poems called "Dear Black Girl", has become a local favorite and has performed pieces such as "Stranger Conversations" and "A Black Woman was Lynched Yesterday".