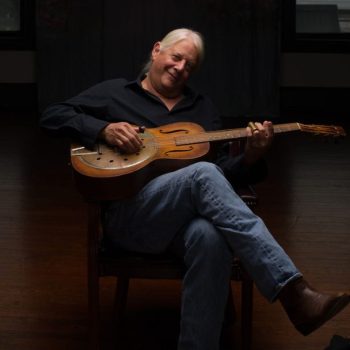 Chris English
blues
Salisbury, Maryland
Photo Credit:
Alyssa Maloof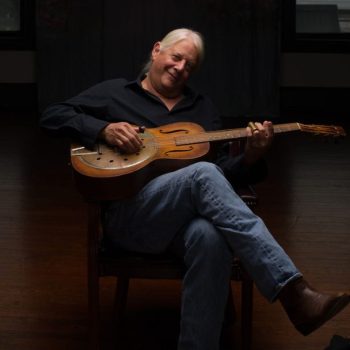 Artist featured on Locals Stage sponsored by Salisbury University and the Fulton School of Liberal Arts at Salisbury University.
Chris English will take you back in time to the beginning of the blues!
As a professional blues artist Chris has produced 5 CD's and maintained a busy performing schedule playing both clubs and festivals for over 40 years. Blues Festivals and concert venues from Massachusetts to Florida have enjoyed Chris' solo act, which is both traditional and original. Newspapers, magazines, TV, and radio have showcased Chris and his authentic style of playing. His original material has been licensed for film and broadcast on NPR radio's "Morning Edition, "Blues from the Red Rooster Lounge", and featured on KFFA's "King Biscuit Time" with host Sonny Payne. Chris represented the Washington Blues Society in the solo / duo International Blues Challenge 2016.
Chris has also written and lectures two courses at Salisbury University titled "Blues: The Roots of Rock and Roll" and "Folk: Songs of Social Change in America". These lecture courses include live performances to demonstrate the styles of folk and blues exploring the musicians and context that shaped the music.
Solo Performance on Saturday, Sept. 23: Chris offers a combination of deep traditional blues and solid original material. Delta blues is his forte, singing, playing guitar and harp, stamping out the time on an old wooden coca cola crate. He uses vintage guitars from the 20's and '30's to replicate the sound and feeling of the blues he has studied and loves. For over 40 years, he has been true to his art learning the subtleties that make each blues special.
Duo Performance on Sunday, September 24: A powerful blend of Chris on guitar, harp, vocals and an old coca cola crate used as a stomp box combined with Grayson who provides a solid bottom end on the bass. These two together bring a big sound. Grayson English on bass guitar explores the material with a fresh energy. Grayson's improvisations make the duo sound like more than two musicians.
Band Performance on Sunday, September 24: Adding the drums for a more rocking Blues sound. Either way Chris English brings the feeling of the Blues to any stage!
"Chris's performances are raw, unrelenting and true to the roots of American music. Everything's moving – his hands, the harmonica and his feet stomping on a Coca Cola box. You will not want to miss this show. We love this guy !!!" – Pam Smith, Owner Good Natured Cafe